Abstract
Despite of recent advances in cancer research and development of new anti-cancer drugs, tumor patients' prognoses have not yet been improved well enough. Treatment failure of tumors is highly attributed to the drug resistance of a small population of cancer cell known as cancer stem-like cells (CSCs). CSCs also have the self-renewal activity and differentiation potency, conferring strong tumorigenicity on them. Therefore, development of CSC targeting therapy is urgently needed in order to overcome possible recurrence and metastasis by them after therapy. CSCs show some characteristic features that are not observed in other differentiated cancer cells, which give them higher resistance against conventional chemotherapy or radiotherapy. Targeting such specific features could be useful for CSC eradication. This review will summarize the recent advances in the study of CSC characteristics along with the promising therapeutic strategies targeting them.
Keywords
Cancer stem-like cell, drug resistance, epithelial-to-mesenchymal transition, hypoxia, quiescence
Introduction
Tumors are composed of highly heterogeneous populations, in which the existence of tumor initiating cells or cancer stem-like cells (CSCs) has been suggested. CSCs are thought to possess high tumorigenic potential because they show the normal tissue stem-like properties including the self-renewing activity and the potency to generate differentiated cell populations[1]. Multiple studies have also shown that the CSC population is highly resistant to conventional chemotherapeutic agents and radioactive therapies due to many kinds of properties specific to them[2-4]. Therefore, it is very likely that CSCs survive after treatment with conventional therapy regimens, and recurrences and metastasis, which are the major cause of poor patient prognosis, are driven by those cells, even if the number of survived cancer cells reached to an undetectable level [Figure 1].

Figure 1. Schematic model of CSC-derived recurrence and metastasis. CSCs are thought to possess high tumorigenic potential because they have the self-renewing activity and the potency to generate differentiated cell populations. CSCs also survive after treatment with chemotherapy or radiotherapy, which leads to recurrence and metastasis, two major causes of poor patient prognosis. CSCs: cancer stem-like cells
In order to overcome the therapy resistance of CSCs, deep understanding on their biologic features is indispensable. Identification of CSC surface markers and development of functional assays including sphere forming assay, in vivo limiting dilution assay and aldefluor assay, have helped researchers to shed light on CSC features[5,6], although there are still much to be elucidated.
In this article, we review current knowledge on the mechanisms by which CSCs show higher therapy resistance and introduce some therapeutic strategies targeting the features of CSCs.
Representative properties of CSCs
The existence of CSCs were first indicated in 1994 by Lapidot et al.[7]. They separated patient-derived acute myeloid leukemia (AML) cells based on the expression of CD34 and CD38, which are the important markers for detection of immature cells in normal bone marrow. When transplanted into severe combined immuno-deficient mice, CD34+CD38- subpopulation formed tumors much more efficiently than CD34+CD38+ or CD34- subpopulations. Furthermore, tumors formed by CD34+CD38- subpopulation precisely replicated many aspects of human AML. These results suggested that AML stem cells are included in CD34+CD38- fraction. Then, in 1997, the concept of CSCs was firmly established by focusing the similarity with normal stem cells by Bonnet et al.[8]. After a decade, existence of CSCs started to be confirmed also in solid tumors including, but not limited to, breast cancer[9], glioblastoma[10], prostate cancer[11], colorectal cancer[12-14] and lung cancer[15].
Although prospective markers to identify CSCs differ among tumor types, CSCs in many kinds of tumors share some important features; higher tumorigenic potential, potency to generate highly heterogeneous population of cancer cells, capacity of serial tumor propagation and higher drug resistance[16-19]. Self-renewing ability and multi differentiation potency are special features of normal tissue stem cells. Therefore, some researchers think that CSCs arise when tumorigenic mutations accumulate in normal stem cells. However, others think that CSCs are produced by differentiated cancer cells which undergo dedifferentiation into stem-like state, because data suggesting that cancer cells have plasticity are also accumulating[20]. Hence, the origin of CSCs still remains to be elucidated.
In CSCs of many types of tumors, stemness related signaling pathways including Wnt, Hedgehog and Notch are often activated[21]. Wnt signaling has been reported to be involved in the embryogenesis and organ development by regulating self-renewal and differentiation of normal stem cells[22]. When Wnt binds to frizzled receptor, it downregulates the function of AXIN/glycogen synthase kinase-3 (GSK-3)/adenomatous polyposis coli (APC) complex, leading to stabilization of β-catenin. β-catenin binds to TERT promoter region and directly enhance TERT expression, leading to maintain long telomeres, which is one of the major hallmarks of CSCs[23].
Hedgehog signaling is also important for the embryogenesis and the repair of normal tissues[24]. When Hedgehog ligands including Sonic Hedgehog, Indian Hedgehog or Desert Hedgehog, bind to the Smoothened receptors, GLI transcription factor is activated by the receptor. The activated GLI localizes into nucleus and induce expression of genes involved in cell survival and proliferation[25]. Activation of Hedgehog signaling could be the cause of epithelial-to-mesenchymal transition (EMT), a representative characteristic of CSCs[26,27].
Notch signaling is an evolutionarily highly conserved signaling mechanism, which is critical for cell proliferation, differentiation, organ development and homeostasis[28]. Unlike Wnt or Hedgehog signaling, Notch signaling occurs through cell-cell communication. When a transmembrane ligand on one cell binds to a transmembrane receptor on a neighboring cell, the receptor is cleaved and interact with nuclear factors to regulate gene expression. In mammals, there are four types of receptors, Notches 1-4, and five types of ligands, delta-like ligand 1 (DLL1), DLL3, DLL4, Jagged-1 and Jagged-2[29]. Although dependency on each type of ligand and receptor is varied among different tumor types, activation of Notch signaling has been interrelated with cancer stemness[30-33]. Therefore, Notch signaling inhibitors have been developed[34-36], and the efficacy of combinational therapy with conventional anti-cancer drugs is investigated.
Therapy resistance of CSCs
Drug resistance of cancer cells is the main reason of poor prognosis of tumor patients. If cancer cells can survive after therapy, they give rise to relapse and metastasis, which are the almost all the causes of cancer related death[37].
As identifying CSCs correctly is still difficult, the relationship between CSCs and drug resistance is not completely clear. However, accumulating evidences have suggested that CSCs possess multi-drug resistance and contribute to incomplete therapeutic responses of tumors. One example indicating CSCs contribution to drug resistance is that when tumors were treated with conventional anti-cancer drugs such as cisplatin, small number of cancer cells survived and the proportion of cells showing the CSC properties significantly increased[38,39]. Another example is that patient prognosis is much worse when cancer cells in tumor strongly express CSC markers like CD133[40-44]. Furthermore, CSCs isolated from clinical breast tumor samples were reported to show strong resistance to various chemotherapeutic drugs[42].
Higher resistance of CSCs is observed not only for chemotherapy but also for radiotherapy. Bao et al.[3] reported that once patients were irradiated in therapeutic regimen, survived glioblastoma cells became more resistant to irradiation, suggesting that CSCs were not eradicated and started to self-renew after therapy. Very recently, Carruthers et al.[45] shed light on how glioblastoma CSCs possess higher resistance to radiotherapy. They found that DNA damage response is constitutively activated in CSCs, because of higher level of replicative stress generated in those cells. Also, based on the findings, they indicated that inhibition of DNA damage checkpoint pathway would be the promising strategy to target CSCs. Not limited to enhanced DNA damage response, CSCs have many different mechanisms to exhibit their higher therapy resistance as described below [Figure 2].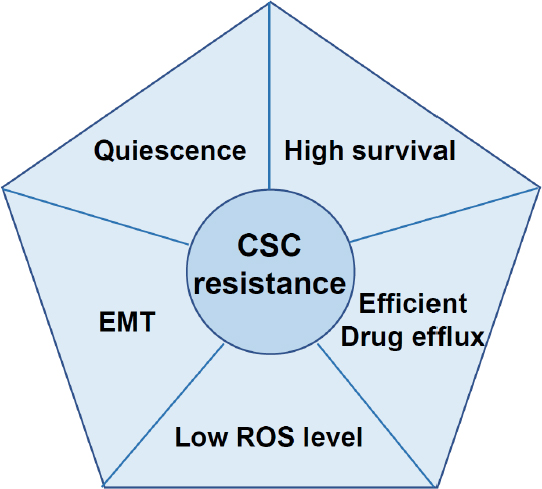 Figure 2. Characteristic of CSCs contributing to higher drug resistance. Higher therapeutic resistance of CSCs is maintained by many features including quiescence, epithelial-to-mesenchymal transition, low ROS level, efficient drug efflux ability and upregulated survival signaling. CSCs: cancer stem-like cells
Mechanisms of CSCs' therapy resistance and their potential as therapeutic targets
Some features of CSCs have been linked to the higher drug resistance of the cells. Most of the features are shared with normal tissue stem cells, but some are limited to CSCs. In order to develop efficient and non-harmful therapeutic strategies, we have to identify and target therapy resistant mechanisms that are highly specific to CSCs.
Treatment approaches targeting stemness related signaling
Because CSCs have potential to survive many kinds of conventional therapies, new therapeutic strategies to eradicate CSCs are now under investigation [Figure 3]. One way targeting CSCs is to inhibit the signaling pathways highly activated in those cells. Many types of Wnt signaling inhibitors, which targets ligand-receptor interaction[92,93] or their downstream effectors porcupine[94] or β-catenin[95], have been developed, and some of them are now on the clinical trial. Notch signaling, another stemness related signaling pathway, is also a candidate target of CSCs. Curcumin, which is a natural compound produced by Curcuma longa plants, has been reported to inhibit this pathway[96]. In addition, inhibitors targeting Notch pathway has been developed and efficacy on CSC eradication of the drugs have been suggested[97].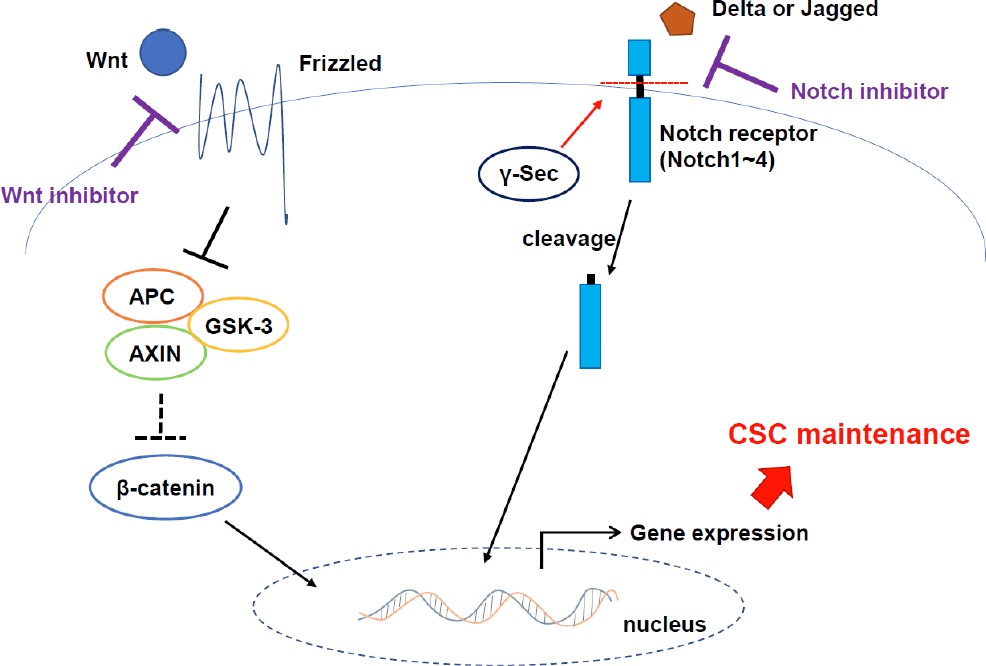 Figure 3. Stemness related pathways could be useful for targeting CSCs. When Wnt binds to FZD receptor, it downregulates the function of AXIN/GSK-3/APC complex, which leads to stabilization of β-catenin. Stabilized β-catenin moves into nucleus and induces the stemness related gene expressions. When a transmembrane Notch ligand (Delta or Jagged) on one cell binds to a transmembrane receptor (Notches 1-4) on a neighboring cell, the receptor is cleaved and interact with nuclear factors to regulate stemness related gene expressions. Inhibition of these pathways may contribute to CSC eradication. FZD: frizzled; GSK-3: glycogen synthase kinase-3; APC: adenomatous polyposis coli. CSCs: cancer stem-like cells
Treatment approaches targeting other activated signaling pathways in CSCs
Not limited to these stemness related signaling pathways, other activated signaling could be targeted. PI3K/Akt signaling plays a crucial role in proliferation and survival of cancer cells during tumorigenesis[98]. We previously showed that PI3K/Akt signaling pathway activated by newly identified CD74-NRG1 fusion gene products contributed to maintenance and growth of CSCs in lung cancer[99,100]. By blocking this signaling pathway with PI3K inhibitor, the self-renewal activity of CSCs significantly suppressed. We have also shown that PI3K/Akt signaling pathway, which is activated by heregulin, contributes to the maintenance of CSCs in breast cancer[101]. Insulin-like growth factor-2 (IGF-2)[102] and growth differentiation factor 15 (GDF15)[103], downstream factors of heregulin/PI3K/Akt, have been shown to play important roles in CSC maintenance [Figure 4].
Figure 4. PI3K/Akt signaling pathway contributes to CSC maintenance and could be a promising target. When CD74-NRG1 fusion protein (in lung cancer) or heregulin (in breast cancer) binds to HER2/HER3 heterodimer receptor, PI3K/Akt/NF-κB signaling is activated. NF-κB induces gene expression of IGF-2 and growth differentiation factor 15 (GDF15), which enhances self-renewal ability of CSCs. Therefore, inhibition of this signaling pathway would be promising to target CSCs. IGF-2: insulin-like growth factor-2; GDF15: growth differentiation factor 15. CSCs: cancer stem-like cells
MAPK-ERK signaling pathway is also important for CSC maintenance. Ding et al.[104] made it clear that CD133+ CSCs in liver cancer demonstrated higher resistance to TGF-β induced apoptosis than CD133- non-CSCs. In their study, MAPK-ERK pathway inhibition effectively decreased CD133+ CSC population, thus, targeting signaling pathways highly activated in CSCs would be promising for CSC eradication.
Recently, we have reported that semaphorin signaling via MICAL3/collapsin response mediator protein 2 (CRMP2)/Numb axis contributes to the maintenance of breast CSCs by inducing symmetric cell division[105]. Depletion or inhibition of factors included in the semaphoring/MICAL3 signaling pathway increased asymmetric cell division of CSCs, which indicated that targeting this pathway could lead to eradication of CSCs [Figure 5].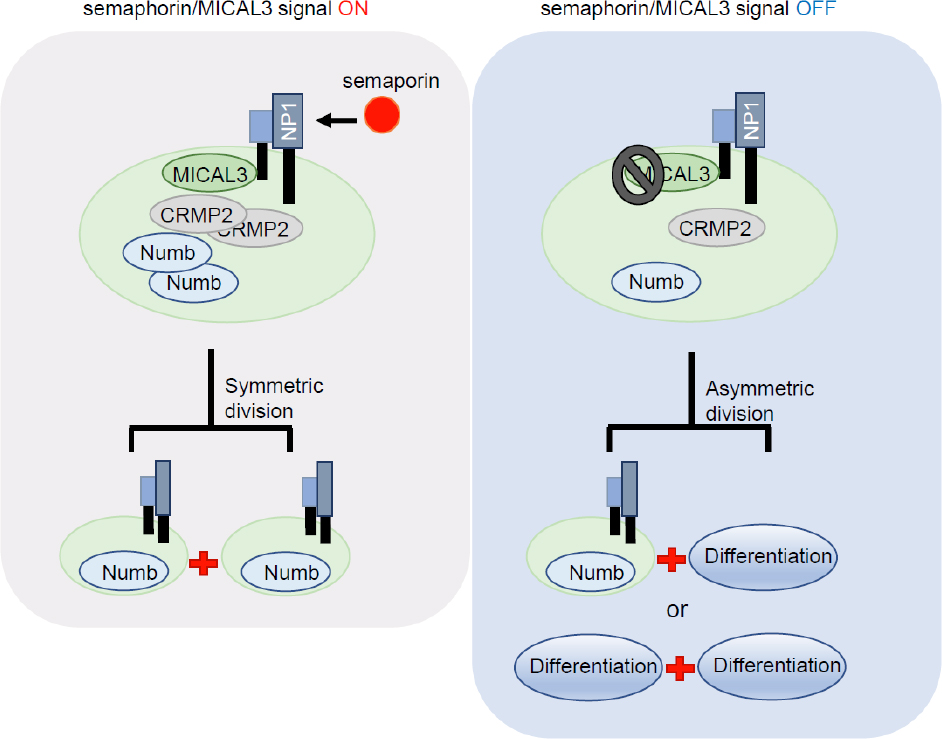 Figure 5. Semaphorin/MICAL3 signaling induces symmetric division of CSCs. By semaphorin binding to neuropilin 1 (NP1) receptor, MICAL3/collapsin response mediator protein 2 (CRMP2)/Numb axis is activated, leading to symmetric division and expansion of BCSCs. NP1: neuropilin 1; CRMP2: collapsin response mediator protein 2. CSCs: cancer stem-like cells
CSC targeting strategy focusing immune system
Furthermore, targeting CSCs by immunotherapy has recently been a hot topic[106]. One potential approach is to generate T-cell responses. In this strategy, CSCs isolated from patient tumors are loaded onto dendritic cells (DCs), which could be used as a cancer vaccine. Lu et al.[107] showed the efficacy of CSC-DC vaccine by using the melanoma and squamous cell carcinoma mouse models . They enriched CSCs for vaccine production based on high expression level of ALDH, and administration of the CSC-DC vaccine significantly decreased tumor volume, ALDHhigh CSC frequency and the probability of metastasis. Based on success of preclinical studies including this one, clinical studies of CSC-DC vaccine therapy are now ongoing.
Conclusion
CSCs show higher resistance to conventional chemotherapies and radiotherapies by staying in a dormant state, decreasing intra-cellular ROS levels, inducing export of toxic agents out of cells, or utilizing many other mechanisms as summarized in this review. Although accumulating knowledge on CSC features may enable us to target CSCs efficiently, there are still many challenges to be overcome. First, we have to distinguish the ways that will not damage normal tissue stem cells, which may not lead to the severe side effects. Second, as killing only CSCs could not succeed in complete tumor eradication, developing efficient combinational therapies will be needed. Therefore, it will take long time before the CSC targeting therapy started to be used widely in clinical settings. Though, once such a strategy is established, much more efficient tumor therapy will come true in the future.
Declarations
Acknowledgments
We thank all the members of our laboratory for their discussion on the contents of drug resistance of CSCs.
Authors' contributions
Conceptualization: Gotoh N
Writing-original draft preparation: Murayama T
Writing-review and editing: Gotoh N
Supervision: Gotoh N
Project administration: Gotoh N
Availability of data and materials
Not applicable.
Financial support and sponsorship
This work was supported in part by a Grant-in-Aid for Scientific Research from a Japan Society for Promotion of Science (JSPS) (17K19587; 18H02679); a research grant from Japan Agency for Medical Research and Development (AMED) Project for Cancer Research and Therapeutic Evolution (P-CREATE) (No. 16cm0106120h0001); Practical Research for Innovative Cancer Control (No. 16ck0106194h0001) to Gotoh N.
Conflicts of interest
All authors declared that there are no conflicts of interest.
Ethical approval and consent to participate
Not applicable.
Consent for publication
Not applicable.
Copyright
© The Author(s) 2019.
Cite This Article
OAE Style
Murayama T, Gotoh N. Drug resistance mechanisms of cancer stem-like cells and their therapeutic potential as drug targets. Cancer Drug Resist 2019;2:457-70. http://dx.doi.org/10.20517/cdr.2019.36
AMA Style
Murayama T, Gotoh N. Drug resistance mechanisms of cancer stem-like cells and their therapeutic potential as drug targets. Cancer Drug Resistance. 2019; 2(3):457-70. http://dx.doi.org/10.20517/cdr.2019.36
Chicago/Turabian Style
Murayama, Takahiko, Noriko Gotoh. 2019. "Drug resistance mechanisms of cancer stem-like cells and their therapeutic potential as drug targets" Cancer Drug Resistance. 2, no.3: 457-70. http://dx.doi.org/10.20517/cdr.2019.36
ACS Style
Murayama, T.; Gotoh N. Drug resistance mechanisms of cancer stem-like cells and their therapeutic potential as drug targets. Cancer Drug Resist. 2019, 2, 457-70. http://dx.doi.org/10.20517/cdr.2019.36