Abstract
Immunotherapy is an emerging form of cancer therapy that is associated with promising outcomes. However, most cancer patients either do not respond to immunotherapy or develop resistance to treatment. The resistance to immunotherapy is poorly understood compared to chemotherapy and radiotherapy. Since immunotherapy targets cells within the tumor microenvironment, understanding the behavior and interactions of different cells within that environment is essential to adequately understand both therapy options and therapy resistance. This review focuses on reviewing and analyzing the special features of cancer stem cells (CSCs), which we believe may contribute to cancer resistance to immunotherapy. The mechanisms are classified into three main categories: mechanisms related to surface markers which are differentially expressed on CSCs and help CSCs escape from immune surveillance and immune cells killing; mechanisms related to CSC-released cytokines which can recruit immune cells and tame hostile immune responses; and mechanisms related to CSC metabolites which modulate the activities of infiltrated immune cells in the tumor microenvironment. This review also discusses progress made in targeting CSCs with immunotherapy and the prospect of developing novel cancer therapies.
Keywords
Immunotherapy, cancer stem cells, immunotherapy resistance, tumor microenvironment
INTRODUCTION
Cancer heterogeneity at the cellular level has recently shifted cancer research from exclusive investigations of events affecting specific cell types to investigations of events governing all types of cells in the tumor microenvironment[1,2]. Tumor heterogeneity is the concept of morphological and phenotypical variation in cancer cells and, therefore, different proliferation potential. Cancer stem cell theory is a confirmed theory derived from this topic, which characterizes subpopulations of tumor cells that can proliferate extensively[3]. These cells are comparable to normal adult stem cells in that they both undergo self-renewal to maintain the stem cell population. The purpose of this feature is to enable the continuous replacement of cells needed in tissues due to everyday damage, age, etc. In cancer stem cells, however, self-renewal has been observed to be the driving force for tumorigenicity and metastasis. Furthermore, there is evidence that cancer stem cell population growth is promoted by oncogenic events induced by chemotherapy, radiation therapy, hypoxia, etc., which are generally thought to reduce tumor growth but, on the contrary, increase the risk of cancer recurrence. Cancer stem cells are observed in all cancers[3]. While cancer stem cells were shown to have the ability to differentiate into distinct types of cancer cells within the tumor[4-6], several types of immune cells were shown to control cancer growth in different ways, from directly targeting and killing cancer cells to suppressing the immune attack by modulating other immune cells[7]. While this paradoxical effect of immune cells on cancer growth is critical to developing adequate immunotherapy regimens, the presence of cancer stem cells in the tumor microenvironment is another factor that could affect the response of cancer to immunotherapy and subsequently lead to therapy resistance. This review discusses the distinctive characteristics of cancer stem cells that we believe may contribute to immunotherapy resistance. Along the same lines, we suggest new areas of focus in the field of immunotherapy research, which may help bypass the therapy resistance caused by cancer stem cells.
CANCER STEM CELLS
The presence of stem cells in tumors has shifted laboratory and clinical approaches to cancer research and has given insight into mechanisms contributing to the therapeutic resistance of many cancers[8-12]. Cancer stem cells (CSCs) are the "seed" of the tumor with self-renewal and differentiation properties. They are believed to be present in all cancers. Although there is debate regarding CSC generation, hypotheses include evolving from the de-differentiation of differentiated cells, the division of existent tissue stem cells, and a combination of both rationales[13]. More importantly, CSCs have been observed to resist chemotherapy by at least five main mechanisms: (i) being in a quiescent proliferative state rendering the cells less sensitive to any form of therapy; (ii) activating drug efflux mechanisms; (iii) overexpressing DNA repair mechanisms; (iv) overexpressing anti-apoptotic genes; and (v) releasing cytokines and chemokines rendering other tumor cells resistant to therapy[14]. As the mechanisms by which CSCs affect the development of chemotherapy resistance have been extensively reviewed, we focus on the characteristics of CSCs that may contribute to resistance to immunotherapy and consider recent findings related to cancer immunotherapy and the cancer microenvironment.
THE INTERACTION BETWEEN IMMUNE CELLS AND CANCER STEM CELLS
Current research aims to understand the immune system's role in cancer as it is evident that the immune system does not target cancer cells in the same way that it targets other types of self-altered cells. Cancer can escape from immunosurveillance through a well-described procedure termed "cancer immunoediting", which comprises three main sequential events, namely elimination, equilibrium, and escape, eventually leading to cancer growth[15]. A tumor microenvironment is an ideal place for starting an investigation of factors contributing to therapy resistance because it is a diverse environment in which a variety of cells grow and interact with one another. It has been shown that the tumor microenvironment (TME) is rich with factors that suppress immune cells by inhibiting their growth.
This interaction in TME can involve both innate and adaptive immune systems. Innate immune cells integral for tumor recognition include natural killer (NK) cells, dendritic cells (DC), macrophages, and myeloid-derived suppressor cells (MDSC). Adaptive immune cells include T cells and B cells. The unique properties of CSCs may make them more susceptible or resistant to immune cells. For example, CSCs have been observed to be more susceptible to being killed by NK cells because of their typical presentation of no/low levels of MHC class I[16]. Additionally, CSC-secreted factors can actively modulate the function of immune cells to generate an immune-suppressive environment. Tumor-associated macrophages (TAMs) can be differentiated into an M1 or M2 phenotype via exposure to specific cytokines and metabolites in the TME. M1 macrophages are characterized by phagocytic activity promoting tumor-killing properties, whereas M2 macrophages are characterized by cytokine production promoting an anti-inflammatory response in the TME, thus promoting tumor growth. CSCs have been observed to release many cytokines, chemokines, and soluble proteins to attract macrophages into the TME and polarize them into M2 TAMs[17]. Furthermore, CSC-induced secretion of the immunosuppressive cytokine IL-10 increased the differentiation of CD4+CD25+FoxP3+ regulatory T cells[18]. Regulatory T cells are a type of CD4+ T cell that function as an immunosuppressant to prevent inappropriate immune system activation. These immunosuppressive cells can interact with cancer cells in various ways ranging from direct ligand-receptor interactions to systemic regulation[19,20]. While systemic regulation is beyond the scope of our discussion in this review paper, it is essential to mention that altered hematopoiesis in cancer is a growing field of research[21,22] that may contribute to immunotherapy resistance.
CONCLUSION AND FUTURE PERSPECTIVES
Many studies performed in the past decade confirm the importance of the whole microenvironment in driving cancer growth and resistance to therapy. As immunotherapy targets a very fundamental aspect of the tumor microenvironment, namely the interaction between immune cells and cancer cells, investigating the tumor microenvironment is critical for an adequate understanding of therapy options and therapy resistance. This review focuses on CSC characteristics that we think might govern the resistance of cancer to immunotherapy [Figure 1]. While the focus is on the expression of cellular markers/release and response to cytokines/metabolic reprogramming, other mechanisms might govern CSCs' ability to bypass or help cancer cells bypass immunotherapy. In addition to answering the questions raised in this review paper, future research needs to focus on other aspects that might govern resistance. These include the systemic control of the hematopoiesis characteristic of cancer and the common markers between CSCs and embryonic stem cells, which might allow for escaping immune surveillance and, therefore, escaping immunotherapy.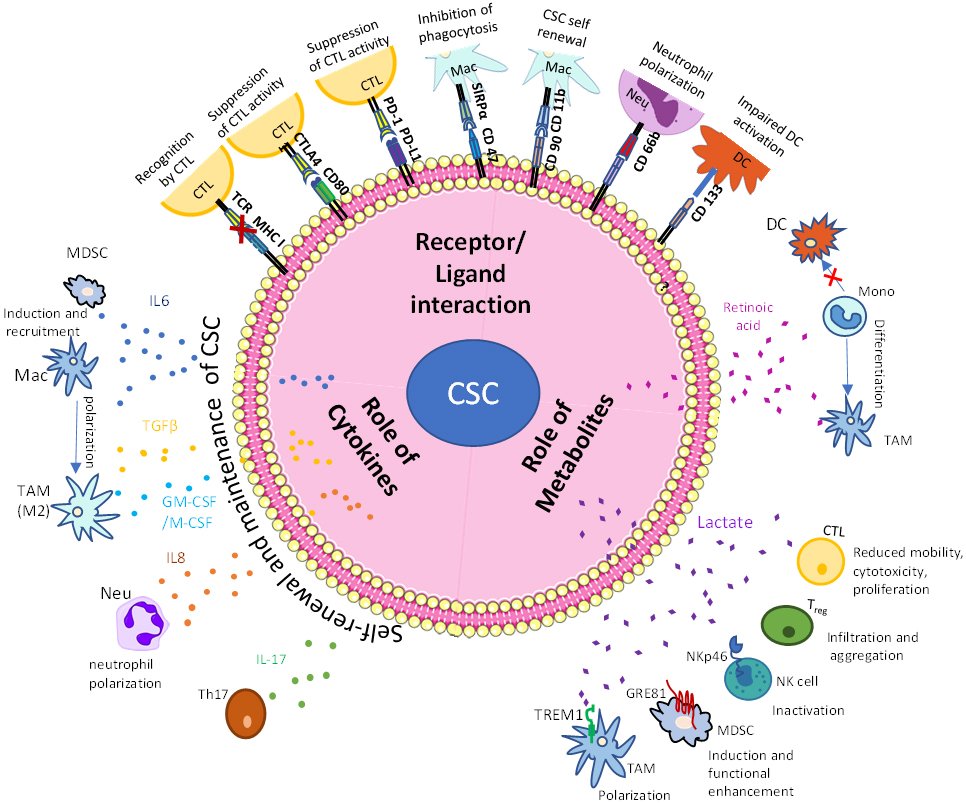 Figure 1. CSC-mediated immune escape and self-renewal. The tumor microenvironment is home to a lot of immune cells, which contribute to cancer cell survival and proliferation. The CSCs can self-renew themselves due to their stem-like properties and are also aided by different cytokines in the TME. Metabolic products from the CSCs, such as retinoic acid and lactate, are also involved in their self-renewal. Other immune cells in the TME, such as MDSCs, immature neutrophils, and TAMs, are also involved in tumor proliferation by dampening the cytotoxic effects of killer T cells and promoting regulatory T cells. CSCs: Cancer stem cells; TME: tumor microenvironment; TAMs: tumor-associated macrophages; CTL: cytotoxic T lymphocyte; Mac: macrophage; Mono: monocyte; Neu: neutrophil; DC: dendritic cells; Treg: regulatory T cell.
DECLARATIONS
Acknowledgments
We thank Zachary Ferris for proofreading the manuscript.
Authors' contributions
Drafted the manuscript, read and approved the final manuscript: Gupta G, Merhej G, Saravanan S, Chen H
Availability of data and material
Not applicable.
Financial support and sponsorship
This work was partially supported by the NIH grants (R01CA178386, R21CA252360), NSF grant (No.1853365) and the USC ASPIRE-1 grant to Chen H.
Conflicts of interest
All authors declared that there are no conflicts of interest.
Ethical approval and consent to participate
Not applicable.
Consent for publication
Not applicable.
Copyright
© The Author(s) 2022.
Cite This Article
OAE Style
Gupta G, Merhej G, Saravanan S, Chen H. Cancer resistance to immunotherapy: What is the role of cancer stem cells?. Cancer Drug Resist 2022;5:981-94. http://dx.doi.org/10.20517/cdr.2022.19
AMA Style
Gupta G, Merhej G, Saravanan S, Chen H. Cancer resistance to immunotherapy: What is the role of cancer stem cells?. Cancer Drug Resistance. 2022; 5(4):981-94. http://dx.doi.org/10.20517/cdr.2022.19
Chicago/Turabian Style
Gupta, Gourab, George Merhej, Shakthika Saravanan, Hexin Chen. 2022. "Cancer resistance to immunotherapy: What is the role of cancer stem cells?" Cancer Drug Resistance. 5, no.4: 981-94. http://dx.doi.org/10.20517/cdr.2022.19
ACS Style
Gupta, G.; Merhej G.; Saravanan S.; Chen H. Cancer resistance to immunotherapy: What is the role of cancer stem cells?. Cancer Drug Resist. 2022, 5, 981-94. http://dx.doi.org/10.20517/cdr.2022.19