FAO of AML cells in the BM microenvironment
Adipocytes in the BM microenvironment support the survival of several types of tumor cells by stimulating FAO through fatty acid transfer[59]. While it was reported that BM adipocytes occupy approximately 60% of the BM in 65-year-old individuals[60], the development of BM adipocytes varies across different skeletal regions, and single-point iliac biopsy may not represent the BM environment of the skeletal system containing the red marrow and yellow marrow. In a previous study, leukemic cells have been shown to colonize in both red and yellow marrow regions, adhere to the cortical bone in the spine, and have enhanced activity in the proximal/distal femur[61]. In addition, radiation therapy accelerates the differentiation of mesenchymal stem cells into adipocytes in BM[62]. Such temporal and spatial changes in the BM microenvironment may play a key role in leukemia's dynamic adaptation of FAO and in leukemia cells' interactions with BM stromal cells.
AML cells generally obtain fatty acids for FAO from the extracellular microenvironment through lipolysis of stored triglycerides[63]. FAO is metabolically activated to promote leukemic cell survival by remodeling and lipolysis of BM adipocytes. FAO is an essential source of mitochondrial NADH and FADH2 for the ETC and provides acetyl-CoA to the TCA cycle to produce ATP[64]. BM adipocytes supply long-chain fatty acids, which are then taken up into the cytoplasm via the scavenger receptor CD36[65,66]. Fatty acids activation is a two-step reaction. In the first step, the fatty acids form acyl-CoA in the cytoplasm. Then, FAO breaks down acyl-CoA to form acetyl-CoA in the mitochondria. Carnitine O-palmitoyltransferase 1 (CPT1) catalyzes a rate-limiting step of FAO; this enzyme conjugates fatty acids to carnitine, which is required for fatty acids to translocate from the cytoplasm to the mitochondria[67]. The internalized fatty acids are further transferred to the AML cell nucleus by the lipid chaperone fatty acid-binding protein 4 (FABP4). In the nucleus, the fatty acids ligate to peroxisome proliferator-activated receptor γ (PPAR)[68]. Activated PPAR induces downstream target genes, including CD36, FABP4, and the antiapoptotic BCL2 [Figure 3][69].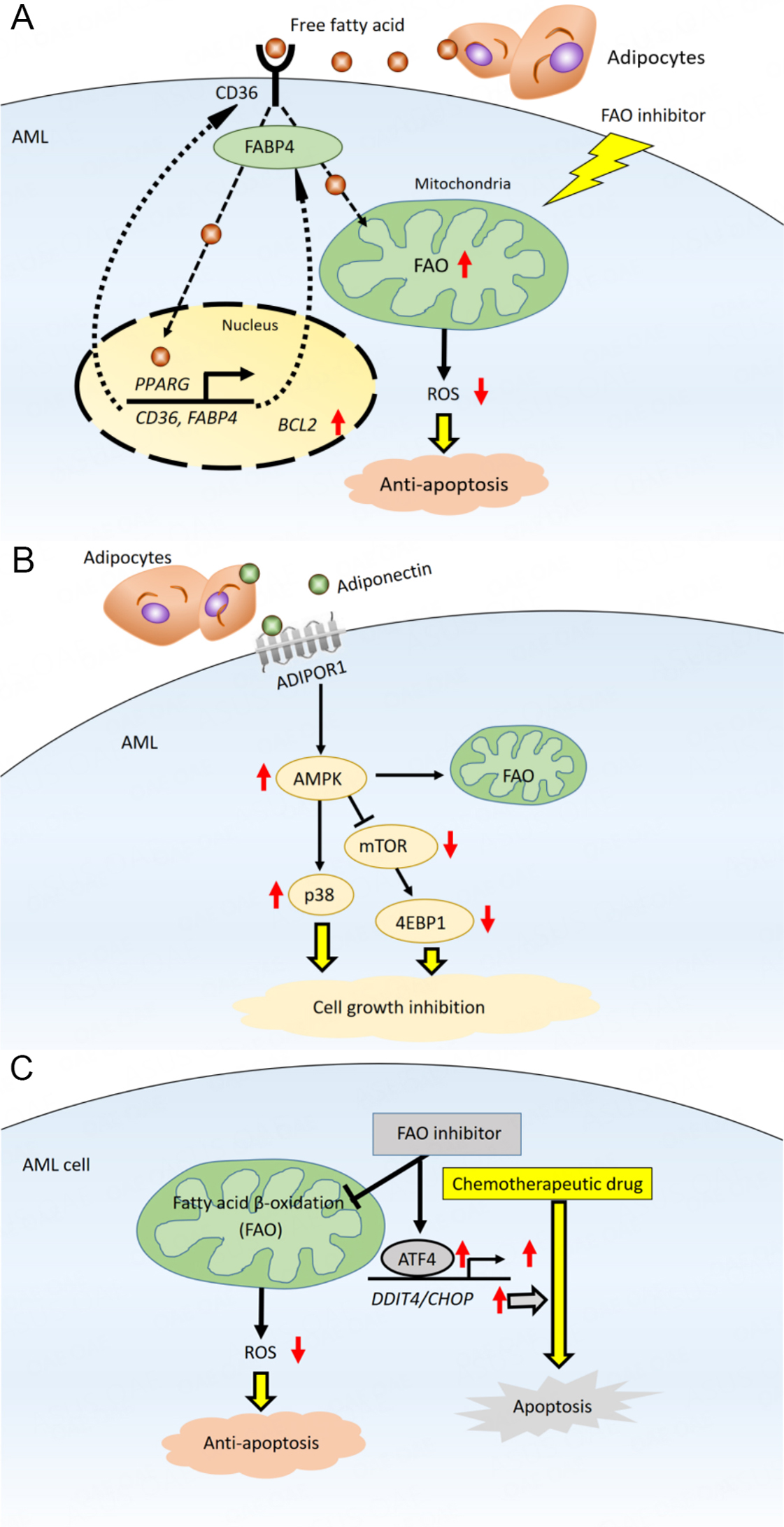 Figure 3. Bone marrow adipocytes promote fatty acid metabolism in AML. (A) Fatty acids derived through lipolysis of stored triglycerides in adipocytes induce upregulation of PPARG, CD36, and FABP4 gene transcription, which stimulates fatty acid endocytosis. In mitochondria, fatty acids are metabolized through fatty acid oxidation (FAO), decreasing mitochondrial reactive oxygen species (ROS) formation and intracellular oxidative stress, thereby reducing apoptosis; (B) transcriptional regulation and fatty acid metabolism pathways maintain AML cells in a quiescent state. Activation of AMPK, upregulation of p38 and associated induction of autophagy, and upregulation of antiapoptotic HSP chaperone proteins in this state lead to chemoresistance; (C) in mitochondria, fatty acids are consumed for FAO, resulting in diminished formation of mitochondrial ROS and decreased intracellular oxidative stress. Inhibition of FAO induces an integrated stress response that stimulates transcriptional activation of ATF4 and promotes apoptosis induced by chemotherapy. ADIPOR1: Adiponectin receptor 1; ATF4: activating transcription factor 4; AMPK: AMP-activated protein kinase; FABP4: fatty acid binding protein 4; p38: p38 mitogen-activated protein kinase.
As with AML cells, the specific BM microenvironment created by the interaction between LSCs and stromal adipocytes supports the metabolic demands of LSCs. LSCs induce adipocyte lipolysis, which drives FAO in LSCs and facilitates their survival[70,71]. Therefore, CD36 and CPT1 are potential targets for AML. A CD36 neutralizing antibody inhibited metastasis of human melanoma and breast cancer cells[72], and inhibition of CPT1 caused mitochondrial damage leading to cell death in primary AML cells[67].
FABP4 is important in FAO and cancer cell survival in both solid and hematologic cancers. Adipocytes are known to serve as fatty acid reservoirs in breast cancer and melanoma[73,74]. Ovarian cancer cells also survive and proliferate in an adipocyte-rich microenvironment[75]. When primary human omental adipocytes were co-cultured with ovarian cancer cells, the adipocytes underwent lipolysis, and FAO was induced in the cancer cells[63]. These processes are mediated by adipokines including interleukin-8 and by upregulation of FABP4 both in adipocytes and ovarian tumor cells. In studies of leukemia, AML cells co-cultured with BM adipocytes exhibited higher levels of FABP4[69], and knockdown of FABP4 prolonged survival in a mouse model of leukemia[71]. Thus, FABP4's critical role in cancer cell survival involves its interactions with adipocytes.
Activation of β-adrenergic receptors, along with a G protein-coupled cascade that stimulates the lipolytic enzyme hormone-sensitive lipase (HSL), induces lipolysis of adipocytes[76,77]. Ovarian cancer cells have been found to upregulate HSL phosphorylation, thereby stimulating the release of free fatty acids from adipocytes[63]. AML blasts also induce HSL phosphorylation and, thus, activation of lipolysis in BM adipocytes[71].
BM adipocytes also increase AML cells' expression of adiponectin and its downstream target, AMP-activated protein kinase (AMPK), a stress response kinase[69]. AMPK, an important modulator of energy metabolism, is activated upon ATP depletion. Its functions include upregulation of fatty acid uptake, FAO, and regulation of autophagy[78,79]. Levels of adiponectin, much of which is supplied by BM adipocytes, have been shown to increase during cancer therapy[80], and to promote chemotherapy resistance in myeloma cells via inducing adipokine secretion of adipokines and activating AMPK-dependent autophagy[81,82]. AMPK also positively regulates responses of an antiapoptotic chaperone heat shock protein that binds to denatured and unfolded proteins and promotes protein refolding or degradation to support AML cell survival[79]. In sum, leukemic cells often rely on fatty acids when they undergo metabolic stress, and the NADH and FADH2 generated by FAO support ATP production, redox homeostasis, biosynthesis, and cell survival.
FAO is involved in the interactions between LSCs and BM stromal cells[83]. LSCs rely on fatty acid uptake and consumption to shape their adaptation to the conditions of the BM microenvironment, their response to drugs, and their development of drug resistance[69]. Several such mechanisms have been identified. Mitochondrial uncoupling in AML cells negatively regulates Bak-dependent mitochondrial permeability transition[84]. In a study using samples from patients with relapsed AML, LSCs acquired the ability to counteract the loss of amino acid metabolism by upregulating FAO[85]. Specifically, this mechanism may underlie the development of resistance to treatment with azacitidine/venetoclax, a common induction regimen used mainly in older patients with AML[85,86]. In addition, a preclinical study demonstrated that cytarabine-resistant AML cells had enhanced FAO and OXPHOS[66]. Thus, targeting the metabolic vulnerabilities of chemoresistant LSCs, such as their dependence on FAO, may be a useful strategy for eradicating these cells.
FAO inhibitors and resistance acquired by compensatory metabolism in the BM microenvironment
FAO inhibition disrupts metabolic homeostasis, increases ROS levels, and induces expression of the integrated stress response mediator ATF4 in AML cells, all of which contribute to apoptosis[87]. Numerous studies have reported the anti-AML effect of inhibition of CPT1, the major rate-limiting enzyme in FAO[67,84,87,88]. CPT1 positively controls FAO by conjugating fatty acids with carnitine to transfer fatty acids into the mitochondrial matrix. Etomoxir is a pharmacological inhibitor of CPT1A, one of the isoforms of CPT1[89], frequently used to block free fatty acids from entering the mitochondria via CPT1. Although the clinical use of etomoxir has ceased because of adverse effects[90], the CPT1 inhibitor perhexiline can sensitize breast cancer cells to paclitaxel[91], and other CPT1 inhibitors[92] are currently being investigated for use in cancer therapy. The CPT1A inhibitor ST1326 has been shown to cause cell growth arrest, mitochondrial damage, and apoptosis in AML cells in a dose- and time-dependent manner[67]. Another novel FAO inhibitor, avocatin B, which is derived from avocados, decreased NADPH levels that were increased by FAO through acetyl-CoA and NADH production, inducing ROS-dependent cell death in AML cells[93,94]. Finally, the fatty acid synthase inhibitor orlistat has induced apoptosis in leukemic cells[2].
The intramitochondrial FAO enzyme very long-chain acyl-CoA dehydrogenase (VLCAD) is critical in supporting both FAO and OXPHOS in AML cells and LSCs. Recently, preclinical studies have demonstrated the antileukemia activity of a novel small-molecule VLCAD inhibitor, a polyhydroxylated fatty alcohol with a terminal alkyne (AYNE)[95]. AYNE reduced mitochondrial respiration by altering FAO, which led to reduced ATP production in AML cells, even though AYNE also moderately upregulated glycolysis. In a mouse model, pharmacological inhibition of VLCAD with AYNE significantly reduced the repopulation potential of leukemia cells and was well tolerated[95]. Notably, normal HSCs compensate for this reduced replicative capacity through glycolysis which maintains their ATP levels and thus their viability[95,96]. These findings demonstrate the importance of focusing on the specific metabolic vulnerabilities of residual AML cells and LSCs that survive chemotherapy-induced stress. Unfortunately, only a few FAO inhibitors have advanced from preclinical to clinical studies [Table 1].
Table 1
FAO inhibitors in clinical trials on cancer treatment
| | | | | | |
| --- | --- | --- | --- | --- | --- |
| Compounds | Targeted enzyme | Clinical applications | Phase | ClinicalTrials.gov Identifier | Verified |
| Trimetazidine | 3-ketoacyl-C3-ketoacyl-CoA thiolase | Advanced Hepatocellular Carcinoma | Phase 3 | NCT03278444 | September 2017 |
| Trimetazidine | 3-ketoacyl-C3-ketoacyl-CoA thiolase | Intermediate-stage Hepatocellular Carcinoma | Phase 3 | NCT03274427 | September 2017 |
| Ranolazine | 3-ketoacyl-C3-ketoacyl-CoA thiolase | Prostate Cancers | N//A (Pilot Study) | NCT01992016 | December 2018 |
Because AML is heterogeneous and multiclonal, blocking only one part of this complex metabolic system may allow residual cells to adapt metabolically. For instance, it has been shown that BM-derived stromal cells, including adipocytes, diminish the antileukemia effects of FAO inhibitors in AML cells by increasing glycolysis and glucose and free fatty acid uptake[87]. This compensatory induction of glycolysis is a sustained source of ATP to AML cells and, in turn, induces substantial lactate production. Similarly, FAO-deficient Abcb11-knockout mice exhibited high FABP4 and CD36 expression and free fatty acid uptake[97]. In sum, it is clear that FAO inhibition initiates several different adaptive mechanisms that promote AML cell survival in the BM microenvironment.
For this reason, treatment options based on combination regimens have been tested. Although FAO inhibition alone can trigger compensatory activation of other metabolic pathways, FAO inhibitors can also synergize with conventional antitumor agents such as paclitaxel[91]. For example, FAO and OXPHOS are increased in cytarabine-resistant AML cells; FAO inhibition with etomoxir induced a metabolic shift from high to low OXPHOS, sensitizing the cells to cytarabine[66]. Similarly, the combination of avocatin B and cytarabine synergized to enhance ROS production and induce apoptosis in AML cells co-cultured with BM adipocytes[87]. The role of avocatin B in apoptosis induction was attributed to activation of endoplasmic reticulum stress-induced ATF4[87]. These findings suggest that AML cells treated with cytarabine exhibit increased dependence on FAO, which may account for the synergism of cytarabine and FAO inhibitors.