Mechanism of action of sorafenib
The revelation of the crucial involvement of Raf1 and vascular endothelial growth factor (VEGF) mediated signaling pathways in the molecular pathogenesis of liver cancer provided an interesting theoretic basis for applying sorafenib drugs to liver cancer treatment[16,17]. As a multikinase inhibitor, sorafenib strongly inhibits the tyrosine kinase Raf. Meanwhile, it has been shown to inhibit vascular endothelial growth factor receptor and platelet-derived growth factor receptor, which in turn inhibits the activation of other downstream multikinase that are normally essential for cell growth, angiogenesis, proliferation and metastasis of HCC cells [Figure 1]. Liu et al.[18] recorded that sorafenib inhibited the proliferation of HCC cells and reduced angiogenesis signal transduction in HCC tumor xenograft, promoting tumor cell apoptosis as well. In addition, the same therapeutic advances have also been revealed in clinical studies[19]. Nevertheless, several studies stated that the therapeutic effects of sorafenib varied among patients, some of whom experienced severe side effects[20-23].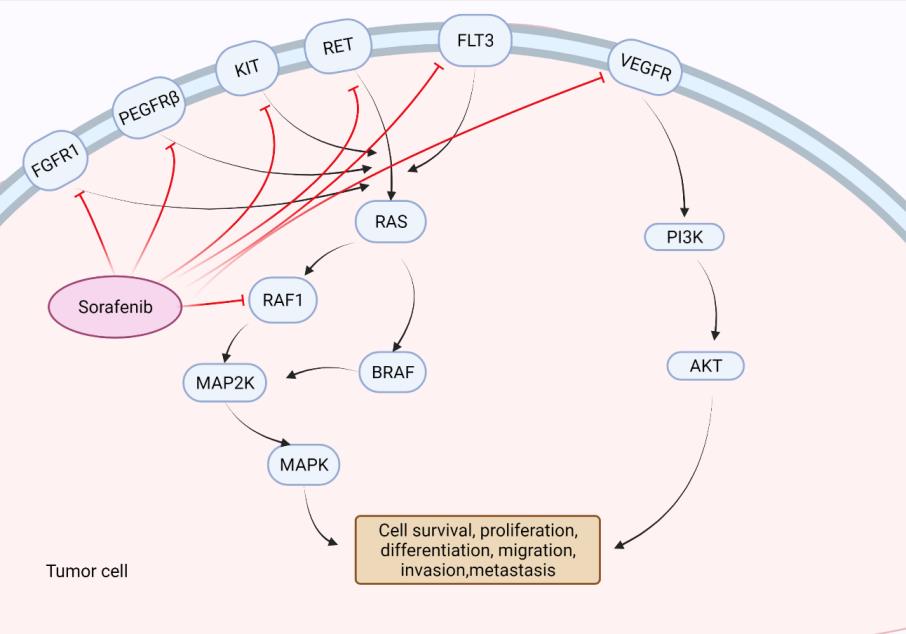 Figure 1. Mechanism of actions of sorafenib. Sorafenib inhibits tyrosine kinase receptor (VEGFR, PDGFRβ, Kit and RET) signaling and suppresses the activation of Raf, thus could suppress tumor progression by inhibiting angiogenesis and cell proliferation. Created with BioRender.com. VEGFR: Vascular endothelial growth factor receptor.
Mechanism of sorafenib resistance
Drug resistance limits the therapeutic effects of HCC treatments. Roughly 30% of patients were reported to respond to sorafenib well at the beginning, while the subsequently acquired resistance to sorafenib usually happens within six months[24], which is far from satisfactory. As an obvious contributor that hinders the effectiveness of cancer treatment, sorafenib resistance and the possible molecular mechanisms involved in sorafenib resistance become prominently important to be discussed here.
Due to the heterogenicity of liver cancer, some patients are resistant to sorafenib primarily, while others obtain sorafenib resistance during treatment, which further limits the application of the drug and leaves the treatment process questionable. Thus, the acquired resistance of sorafenib attracted the attention of a wide range of researchers[8,25]. To date, studies on the potential mechanism of sorafenib resistance have mainly focused on the activation of drug targets and downstream signaling, regulation of cell proliferation and apoptosis signaling[5-9]. In addition, stemness and mesenchymal states of sorafenib-resistant HCC cells provided a new aspect of this challenging problem[26]. Altogether, the mechanism of sorafenib resistance and its influence on the treatment process remain complicated and require more research for a better understanding.
The epidermal growth factor receptor (EGFR) has been found to be overexpressed or hyperactivated in the cancer cells of most liver cancer patients as well as be the reason for continuous activation of its downstream signaling of the Ras/Raf/MEK/ERK pathway. This contributes to the abnormal proliferation of cancer cells and therefore might promote sorafenib resistance[27]. For instance, an attenuated level of phosphorylated ERK was reported to be associated with sorafenib resistance in HCC[28]. In addition, hyperactivated EGFR/HER3 and its overexpressed ligands were reported to suppress the curative effect of sorafenib by interfering with the phosphorylation of EGFR/HER3, by which the enhanced anti-proliferative and pro-apoptotic abilities of sorafenib could be achieved during the treatment[29].
A body of evidence reveals that the PI3K/Akt pathway plays an important role in sorafenib resistance[5,30]. For instance, Chen et al.[5] found that exposure of Huh7 liver cancer cells to a high concentration of sorafenib could result in sorafenib resistance and an accelerated expression of Akt in the treated cells. Furthermore, the PI3K/Akt pathway has been identified to have a close relationship with cell apoptosis. In the pathway, the combination of pro-survival factor and tyrosine kinase receptor activates the kinase PI3K, which triggers the downstream cascade to endorse phosphorylation of Akt and thus contributes to the suppression of cell apoptosis. In turn, inhibition of Akt could make the tumor cell more responsive to sorafenib treatment[31]. Hence, silencing of PI3K/Akt signaling with Akt inhibitor alone or with other combination therapy has gained attention for reversing sorafenib resistance for better HCC treatment[32,33]. Furthermore, Src homology 2 domain-containing protein tyrosine phosphatase 1 (SHP-1) has been reported to be activated by sorafenib, which in turn could negatively regulate pSTAT3 and suppress transduction of JAK/STAT signaling. Dysfunctional JAK/STAT has been observed in sorafenib-resistant liver cancer cells, including induced expression of pSTAT3 and its downstream anti-apoptotic protein Mcl-1 and reduced expression of SHP-1/pSHP-1[34].
Moreover, cancer stem cells (CSCs), which represent a subpopulation of cancer cells with a self-renewal nature, are considered to participate in tumorigenesis, drug resistance, tumor metastasis and recurrence, and they are innovative targets for cancer therapy[35-37]. Label-retaining cancer cells (LRCCs) can be used to label CSCs. Xin et al.[38] used this methodology to observe sorafenib treated HCC cells and found that LRCCs were highly enriched in the remaining HCC cells that escaped sorafenib treatment, which strongly evidenced the resistance to sorafenib-induced cytotoxicity and apoptosis. In addition, specific ATP binding box (ABC) transporters have been reported to be highly expressed on CSCs, which control the outflow of chemical agents to protect cells from toxic compound accumulation and damage, and hence could reduce the sensitivity of cells towards drug treatment[39,40]. ABCB1 has been attested to have a close relationship with multidrug resistance; thereby, knocking out ABCB1 in drug-resistant cancer cell lines made those cells more responsive to chemotherapies[41]. It was also revealed that CSCs isolated from HCC cell lines showed resistance to sorafenib both in vitro and in vivo with abnormal IL-6/STAT3 signaling[6]. Through VEGF, liver cancer stem cells could promote tumor angiogenesis to sustain their stemness as well as drug resistance features[42]. In addition, Wnt/β-catenin signaling, one of the classic pathways involved in stemness regulation[43,44], was proven to be hyperactivated in HCC cells, resulting in β-catenin accumulation in cytoplasm and nucleus, which finally led to enhanced self-renewal ability of CSCs[45,46]. Inhibition of Wnt signaling has been shown to be beneficial to CSC clearance and tumor development[46,47].
Dual biotransformation routes including oxidation and glucuronidation were witnessed in the sorafenib metabolism[48-50]. After hepatocellular uptake, sorafenib was N-oxidized by CYP3A4, one of the drug-metabolizing enzymes, to the pharmacologically active sorafenib-N-oxide metabolites[51,52]. However, CYP3A4 was identified as poorly expressed in liver cancer[53]. Well-studied oncomiRs (e.g., miR 21, miR-142 and miR-27b) overexpressed in HCC, which could be transferred by tumor-derived microvesicles (TMVs), were proved to be negatively associated with CYP3A4 mRNA in human liver[54], which might downregulate the expression of this main enzyme and thus could inhibit the active biotransformation of sorafenib drug. Apart from oxidation, sorafenib underwent glucuronidation, mainly mediated by UGT1A1 and UGT1A9, to inactive glucuronide metabolites[48,55]. A recent study revealed that sorafenib inhibits the above-mentioned UGT enzyme[56], which might be the blockage for sorafenib secretion to bile and later systemic circulation and clearance. Taken together, the insufficient oxidation and complex interaction between sorafenib and UGT enzymes need further investigation for a deep understanding of their role in resistance.
Anti-angiogenesis is one of the therapeutic effects of sorafenib, while the tumor vessel depletion along with pericyte could induce hypoxia and allow the maintenance and enhancement of CSCs in HCC[57,58]. Apart from specific niches, different stroma cells in the microenvironment render sorafenib sensitivity[59], where MVs play a significant role.