INTRODUCTION
Notwithstanding widespread, effective measures of preventive screening, early detection and major advances in treatment options, colorectal cancer (CRC) is still the fourth cause of cancer-related death worldwide[1,2]. In fact, due to the relatively asymptomatic progression of the disease in the early stages, patients are frequently diagnosed with metastatic CRC (mCRC), with a 5-year survival rate of around 14%[3]. Neo-adjuvant or adjuvant chemotherapy, together with surgery, represent the backbone of the therapeutic approach for both early-stage and metastatic cancer patients. Depending on tumor site and progression of the disease, chemotherapy can be associated with radiotherapy[4-6] and, in selected cases, it can be possibly integrated with targeted therapy and/or immunotherapy. However, despite a variety of therapeutic approaches, resistance - both intrinsic and acquired - to drug treatment(s) remains one of the greatest challenges in the long-term management of incurable mCRC and eventually contributes to death[7,8]. In the last two decades, remarkable progresses have been made in the understanding of the mechanisms underlying drug resistance and in the unraveling of the feedback mechanisms fueling acquired resistance to targeted and/or immunotherapy. In addition, several phenotypes and synthetic lethality screens uncovered important liabilities that can be pharmacologically targeted in resistant tumors and in specific mutational settings[9]. Accordingly, hundreds of clinical trials are currently undergoing to test new drugs and new combinations for the treatment of mCRC. This review will pinpoint the most promising targets emerged in the last decade.
RESISTANCE TO CHEMOTHERAPY
According to the American Society of Clinical Oncology (ASCO) guidelines (https://www.asco.org/), the main drugs used for chemotherapy are 5-fluorouracil (5-FU), irinotecan, and oxaliplatin, either alone or in combinations such as in the FOLFOX (5-FU + leucovorin + oxaliplatin) or FOLFIRI (5-FU + leucovorin + irinotecan) regimens. 5-FU-based chemotherapy is the main approach for advanced CRC and, when used in combination, initial responses are up to 55%-65%. When administered sequentially, median overall survival (OS) can range from 18 to 20 months[10]. Although 5-FU initially de-bulks the tumor mass, recurrence usually occurs, thus pinpointing how acquired drug resistance, and consequent tumor re-growth, represents the main obstacle to effective clinical outcomes for CRC patients. Several different mechanisms have been identified accounting for resistance to 5-FU-based chemotherapy[11] and increasing number of strategies are being explored to increase the responsiveness of resistant tumors to chemotherapy [Figure 1].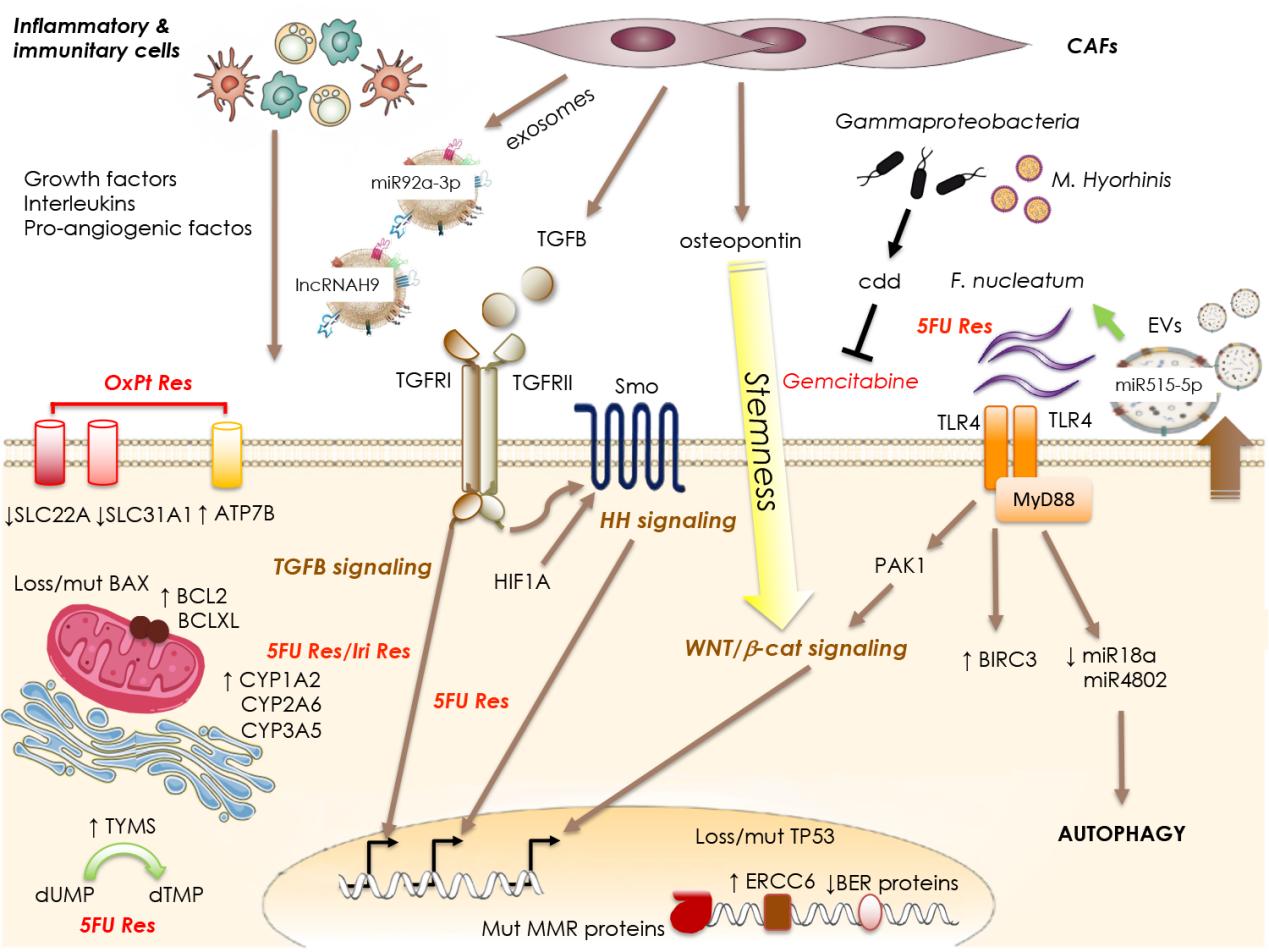 Figure 1. Mechanisms of resistance to chemotherapy. Tumor cell-intrinsic mechanisms may involve: dysregulated expression of drug transporters (SLC family members or ATP7B) and enzymes involved in drug metabolism (CYP family members), imbalanced expression of anti-/pro-apoptotic molecules (BAX mutation/loss or increased BCL2 expression), or dysregulation of DNA repair mechanisms and checkpoints (TP53 mutation/loss, MMR proteins mutation, diminished expression of BER proteins, or increased ERCC6 expression). External signals acting on the tumor cells to trigger resistance may derive from the cells populating the tumoral niche such as the CAFs releasing TGFB, osteopontin and exosomes containing specific lncRNAs and miRs. In addition, inflammatory and immunitary cells of the niche release a number of interleukins, growth factors, pro-angiogenic factors. Also, specific components of the microbiota can contribute to the resistance to chemotherapy by directly inactivating the drug (Gammaproteobacterial or M. hyorhinis) or by engaging the TLR4/MyD88 system to transduce pro-survival and autophagic signals. SLC: Solute carrier; MMR: mismatch-repair system; CAFs: cancer-associated fibroblast.
Dysregulated expression of drug transporters and enzymes involved in drug metabolism
Plasma membrane transporters are pivotal for the uptake into and the efflux out of the cells of endogenous and exogenous molecules. They are divided in two big families: the ATP-binding cassette (ABC) family and the solute carrier (SLC) family. Members of both families serve a range of physiological roles but some of them also are determinants of drug disposition via affecting absorption, distribution, and excretion of drugs [Table 1].
Table 1
Dysregulated expression of drug transporters and enzymes involved in drug metabolism
Gene
Protein function
Correlation with drug resistance
Ref.
SLC22A3
Uptake of platinum compounds
Lower SLC22A3 expression correlates with worst PSF in patients receiving FOLFOX6 regimen
[20]
Post-treatment intracellular concentration of OxPt is higher in SLC22A3-overexpressing cells; upregulation of SLC22A3 in mouse xenografts rendered tumors more responsive to OxPt treatment
[21]
SLC31A1
Copper influx transporter, involved also in OxPt intake
SLC31A1 level predicts prolonged survival and enhanced response to platinum-based regimens in cancer patients with several epithelial cancers
[24]
ATP7B
Copper efflux transporter, involved also in OxPt efflux
Increased levels of ATP7B are associated with poor outcome in CRC patients receiving oxaliplatin-based chemotherapy
[23]
CYP1A2/CYP2A6

CYP3A5
Cytochrome P450 enzymes involved in drug metabolism
Increased expression in 5-FU-resistant HCT116 CRC cell line; addition of the CYP450 inhibitor phenylpyrrole enhanced 5-FU-induced cytotoxicity in 5-FU-resistant cells
[25]
Higher intratumoral expression of CYP3A5 in patients with CRC who do not respond to irinotecan-based chemotherapy
[29]
TYMS
Enzyme that
maintains the dTMP pool critical for DNA replication and repair and is inhibited by 5-FU
Increased expression of TYMS in pretreatment tumor biopsies identified tumors non-responsive to 5-FU-based therapy
[26]
Since the mid-1980s several members of the ABC family have been deemed to be play an important role in the resistance to chemotherapy, given that their dysregulated expression may lead to a decreased uptake or an increased efflux of anticancer agents[12-14]. Even though roughly half of the members have been shown to efflux anticancer agents in some context, the use of cell lines with high ABC transporter expression levels might have led to an overestimation of their role in cancer[15]. In addition, transporters are usually parts of more complex networks usually under the same transcriptional regulation; therefore, their upregulation may be more of an epi-phenomenon than of a cause-related effect[16]. A paradigmatic example of this are the data reported by Gao et al.[17]. They first showed that, in colon cancer cell lines made resistant to 5-FU, drug treatment induced the expression of different ABC transporters as well as the activation of IRE1, an enzyme involved in the unfolded protein response ensuing from endoplasmic reticulum stress[18]. Disabling the enzyme, by both a specific inhibitor and by RNA silencing, they observed a decrease in the expression of the transporters as well as the sensitization to 5-FU. Given that the unfolded protein response is a complex response where several genes are regulated downstream of IRE1[19], their experiments do not rule out that the sensitization might be due to the suppression (or activation) of other components of the response. Therefore, the decrease in the expression of the transporters simply correlates with the sensitization effect without a clear cause-effect relationship having been established.
For decades now plenty of experimental data have been produced - both in in vitro and in vivo systems - showing that the increased expression of several members correlate with increased resistance to chemotherapeutic agents as well as their inhibition by specific inhibitors could restore drug sensitivity[12,13]. Although the substrates and key roles for most of these transporters have been identified, the extent to which these transporters play an effective role in clinical multidrug resistance has not yet been clarified[15,16], not in general nor in the specific case of CRC. In fact, ex-vivo data are still pretty inconclusive: for example ABCB1 expression is generally low in tumors, but for few exceptions, and specific inhibitors have clinically failed[16].
On the other hand, some members of the SLC family 22 shown to be involved in the uptake of platinum compounds have been more directly linked to drug efficacy. For example, in a retrospective study Gu et al.[20] found that high expression of SLC22A3 (OCT3) may be a protective factor for CRC patients postoperatively treated with FOLFOX6 as a first-line adjuvant chemotherapy. In line with this, the same group also demonstrated in in vitro and in vivo experimental systems that the cellular concentration of oxaliplatin and its cytotoxicity were significantly increased in response to high expression of OCT3, whereas OCT3 knockdown directly increased the invasion and migration of colon cancer cells. In addition, upregulation of OCT3 expression in colon cancer xenografts via treatment with the DNA methyltransferase inhibitor decitabine increased the cellular concentration of the drug and improved its curative effect[21]. Key mediators for oxaliplatin accumulation inside the cells are also a series of proteins initially identified as copper transporters. It has been shown that the major copper influx transporter SLC31A1 (CTR1) regulates tumor cell uptake whereas the two copper efflux transporters ATP7A and ATP7B regulate the efflux[22]. Accordingly, it has been reported that increased levels of ATP7B are associated with poor outcome in CRC patients receiving oxaliplatin-based chemotherapy[23], whereas a large meta-analysis of literatures and datasets performed by Sun et al.[24] revealed that high CTR1 level predicts prolonged survival and enhanced response to platinum-based regimens in cancer patients with a number of epithelial cancers.
A change in the expression or activation of enzymes involved in drug metabolism by cancer cells can enhance the catabolism of the drugs or result in diminished activation of prodrugs. In both cases, the result is an impairment of the pharmacological action of the chemotherapeutic agent [Table 1]. For example, Untereiner et al.[25] produced a 5-FU-resistant HCT116 CRC cell line characterized by a significant increase in the expression of the drug-metabolizing cytochrome P450 enzymes CYP1A2 and CYP2A6. Accordingly, they reported that the addition of the CYP450 inhibitor phenylpyrrole enhanced 5-FU-induced cytotoxicity in 5-FU-resistant cells[25]. Also, increased expression of thymidylate synthase (the enzyme inhibited by 5-FU) in pretreatment tumor biopsies could identify tumors that would be non-responsive to 5-FU-based therapy[26]. At variance, downregulation of thymidine phosphorylase (which plays an essential role in activating the oral prodrug capecitabine to 5-FU) causes resistance via insufficient drug activation[27].
Irinotecan undergoes extensive metabolism in both the liver and the intestine; it is converted to inactive metabolites by CYP3A4 and CYP3A5[28]. Studying a CRC patient cohort, Buck et al.[29] recently reported an association between the response to irinotecan and the expression CYP3A5; in fact, they found a significantly higher intratumoral expression of CYP3A5 in patients with CRC who do not respond to irinotecan-based chemotherapy and thus suggested a causal role of CYP3A5 in tumor resistance.
Dysregulation of DNA repair mechanisms and checkpoints
5-FU and all the most used drugs for treating CRC act by inducing, directly or indirectly, DNA damage and consequently activate cell's DNA damage response. Depending on the entity of the damage and on the functionality of the DNA damage response, apoptosis can be the outcome. In fact, several DNA repair mechanisms can intervene to remove or repair drug-induced damage thus avoiding cytotoxicity, and their dysregulation can contribute to the drug-resistant phenotype [Table 2]. For example, ERCC6 - a member of the excision repair cross-complementation (ERCC) family of enzymes, involved in the nucleotide excision repair pathway (NER) - is upregulated in CRC tissues compared to matched non-tumoral adjacent tissues and is also upregulated in patients resistant to 5-FU treatment. Conversely, low ERCC6 expression is associated with better response to chemotherapy and survival in CRC[30].
Table 2
Dysregulation of DNA repair mechanisms and checkpoints
Gene/system
Protein function
Correlation with drug resistance
Ref.
ERCC6
Member of ERCC family of enzymes involved in the NER
Upregulated in CRC tissues compared to matched non-tumoral adjacent tissues
Higher levels in patients resistant to 5-FU treatment
low expression associated with better response to chemotherapy and survival
[30]
BER
Members of the BER system repairs bulky helix-distorting lesions
CRC patients with defects in components of the mismatch-repair system and expressing high levels of BER proteins have more aggressive tumors and poor outcomes after chemotherapy
[31]
MMR
Members of MMR are involved in recognizing and repairing erroneous insertion, deletion, and mis-incorporation of bases
dMMR patients with stages II and III CRC are less responsive, if not at all, to 5-FU-based chemotherapy whereas a better response is achievable in pMMR patients
[33,34]
TP53
DNA damage checkpoint
Loss or impairment of TP53 affects the response to chemotherapy in several in vitro and in vivo systems
[37]
Loss or impairment of TP53 predict the poor response of patients with mCRC treated with chemotherapy
[38]
Loss or impairment of TP53 associated with poor survival after FOLFOX therapyLoss or impairment of TP53 associated with poor survival after FOLFOX therapy
[39,40]
Activity of the base-excision repair (BER) system is pivotal in determining 5-FU-induced cytotoxicity in cells concomitantly defective for components of the mismatch-repair system (dMMR), as shown by the fact that CRC patients expressing high levels of BER proteins have more aggressive tumors and poor outcomes after chemotherapy[31]. Of note, zelpolib, a specific inhibitor of DNA polymerase δ an essential component of both NER and BER pathways - has been recently synthesized and shown to render cells sensitive to PARP inhibitors[32]. Therefore, it would be of interest to assess whether PARP inhibitors are cytotoxic in ERCC6-overexpressing and MMR/BER defective 5-FU-resistant models.
MMR status is particularly important in CRC given that around 15% of patients have one or more components (MLH1, MLH3, MSH2, or MSH3) mutated or silenced, often with a microsatellite instability (MSI) phenotype. Notably, patients with stages II and III CRC are less responsive, if not at all, to 5-FU-based chemotherapy whereas a better response is achievable in patients with MMR-proficient (pMMR) tumors[33,34]. In addition, MMR phenotype is also predictive of resistance to oxaliplatin-based chemotherapy[35]. Notably, collections of evidence are accumulating that dMMR and MSI-high (MSI-H) heavily pre-treated patients (at least two prior lines of therapy for metastatic disease) show a durable clinical benefit when treated with programmed cell death protein 1 (PD-1) inhibitors, particularly in the metastatic setting[36].
The response to DNA damage is tightly controlled by DNA damage checkpoints and their misfunctioning may allow the survival of damaged cells and the selection of new mutations. In this case, the resistance to chemotherapy as well as the tumor progression are favored characteristics. The best-known DNA damage checkpoint, mutated or lost in 50% to 70% of CRC cases, is TP53 which makes it the gene with the highest mutation rate in CRC[37,38]. Loss or impairment of TP53 have been shown to affect the response to chemotherapy in several in vitro and in vivo systems[37], to predict the poor response of patients with mCRC treated with chemotherapy[38], and be associated with poor survival after FOLFOX therapy[39,40].
Many promising synthetic lethal vulnerabilities, whose targeting kills p53-null drug resistant-resistant CRC cells, have been identified by an shRNA screen performed in our lab[41]. Several of them have successively been validated by other labs such as PIM-1[42], TRIB3[43], EPHA2[44,45], CHK1[46], and VEGFR2[47]. We focused our studies particularly on two targets: GSK3B and p65BTK. We showed that GSK3B is significantly more activated in drug-resistant vs. responsive CRC patients and is associated with cancer progression, poor response to therapy, and worse OS. Experimentally, we demonstrated that in the absence of p53, GSK3B activity allows cells to survive, despite treatment with DNA-damaging drugs, by sustaining DNA repair and that its downregulation restored sensitivity to 5-FU of p53-null colon cancer cells - both in in vitro and in in vivo models - via induction of regulated necrosis[48]. Moreover, we also demonstrated that GSK3A is redundant with GSK3B modulating drug resistance and chemotherapy-induced regulated necrosis[49]. A general role for GSK3B in sustaining resistance to chemotherapy has been validated also in other types of cancers and 9-ING-41, a novel GSK3B inhibitor developed by actuate therapeutics, is currently undergoing phase 1 and phase 2 trials, as a single agent and in combination with cytotoxic agents, in patients with refractory cancers, including CRCs[9]. p65BTK is a novel isoform of the Bruton's tyrosine kinase we isolated from the screening and subsequently characterized. Compared to the known Bruton's tyrosine kinase (BTK) expressed in bone marrow-derived cell lineages, p65BTK lacks a stretch of 86 amino acids at the N-term and is translated from an mRNA containing a different first exon. Protein abundance is regulated at the post-transcriptional level and under the control of RAS/ERK pathway. Moreover, p65BTK is endowed with strong transforming activity that depends on ERK1/2 and its inhibition abolishes RAS transforming activity. Accordingly, p65BTK overexpression in CRC tissues correlates with ERK1/2 activation[50], histotype, and cancer progression[51]. p65BTK silencing or chemical inhibition affects the growth of CRC cells and overcomes the 5-FU resistance of p53-null CRC cells by abolishing a 5-FU-elicited TGFB1 protective response and triggering E2F-dependent apoptosis. In addition, the combination of BTK inhibitors with 5-FU is cytotoxic for p53-null patient-derived organoids and significantly reduced the growth of xenografted tumors, thus giving the proof-of-concept for suggesting the use of BTK inhibitors in combination with 5-FU as a novel therapeutic approach in CRC patients[51]. Further studies from our lab indicate p65BTK as an actionable target in different solid tumors other than CRC. In fact, preclinical data indicate that depending on the tumor type, BTK inhibitors used alone can induce cytotoxicity in gliomas[52], be more effective than standard-of-care (SOC) chemotherapy in drug-resistant ovarian cancer[53] or can kill drug-resistant tumor cells when used in combination with SOC chemotherapy or targeted therapy in non-small-cell lung cancer[54], and melanomas (unpublished data).
Interestingly, its targeting is effective in cells with p53 loss and defects along the RAS/MAPK pathway, making it an actionable target for a broad range of solid tumors resistant to SOC chemotherapy. Notably several drugs targeting BTK are already in clinic for certain types of B-cell malignancies (e.g., ibrutinib, acalabrutinib, and zanubrutinib), whereas several others are in clinical trial for B-cell malignancies (e.g., orelabrutinib, spebrutinib, pirtobrutinib, and BGB-3111) and for different type of diseases characterized by excessive B-cell activation (e.g., remibrutinib, renebrutinib, tolebrutinib, and rilzabrunib). Thus, assessing their efficacy in drug-resistant CRCs and other solid tumors would be feasible and advantageous.
Imbalanced expression of anti-/pro-apoptotic molecules
Drug resistance has been demonstrated to be associated with low levels of the pro-apoptotic BAX protein or its loss[55,56], which can occur in CRC patients because of inactivating mutation or somatic frameshift mutation in the dMMR setting[57]. In a low-expressing experimental CRC model, its re-induction by using andrographolide, a natural diterpenoid, restored the apoptotic response to 5-FU of drug-resistant CRC cells[58]. Drug resistance has also been associated with increased levels of the anti-apoptotic BCL-XL protein, which largely occurs in CRC either by amplification or by overexpression[59]. Several molecules antagonizing BCL-XL, the so-called BH3-mimetics, are currently being tested in experimental models in combination with chemo- or targeted therapy. For example, ABT-737 has been shown to improve the response to oxaliplatin in a TP53wt/KRASmut background[60]. Both ABT-737 and WEHI-539 have been shown to lower the apoptotic threshold by increasing the mitochondrial priming, thus sensitizing resistant CRC cells to chemotherapy; also, Ch282-5 potentiated the response to oxaliplatin both in vitro and in vivo[61]. On the other hand, ABT-263 has been proven to overcome hypoxia-driven radioresistance and improve radiotherapy[62]. Several BH-3 mimetics are currently being tested in clinical trials, even though not for CRC, but mainly for hematological malignancies and other solid tumors[59]. Hence, it may be hypothesized that in a near future these molecules will also be tested in CRC patients.
Cancer stem cells and the tumoral niche
It has been repeatedly demonstrated that in the bulk of the tumor population, a very small fraction is represented by cancer stem cells (CSCs) that are intrinsically resistant to chemotherapy. In addition, upon exposure to anticancer agents and radiotherapy they may enter a quiescent state, resistant to anti-proliferative drugs; once the therapy is suspended, they can self-renew and differentiate into heterogeneous lineages of cancer cells, thus driving tumor recurrence[63]. Initially, several data indicated that CSCs upregulate drug-efflux pumps, have a superior DNA-repair capacity, and have enhanced antioxidant defenses[64]. More recently, cell plasticity and, in particular, the ability of CSCs to adopt a quiescent state have also emerged as important drivers of drug resistance. In fact, lineage-tracing approaches have revealed that the potential of committed cells to move up and down the hierarchy of differentiation ("plasticity") is more widespread than previously thought. Interestingly, several studies have provided evidence that both CSCs and non-CSCs are plastic and capable of undergoing phenotypic transitions in response to appropriate stimuli[64]. Therefore, under stimuli coming from the tumoral niche - composed of mesenchymal cells, tumor-infiltrating immune cells (TIIC), endothelial cells, extracellular matrix, and inflammatory mediators - the stemness phenotype can be acquired also by non-CSCs. In particular, cancer cells that can enter a reversible drug-tolerant "persister" state in response to treatment have been described[65]; this population is made of cycling and non-cycling persisters which arise from different cell lineages with distinct transcriptional and metabolic programs. Upregulation of antioxidant gene programs and a metabolic shift to fatty acid oxidation has been associated with persister proliferative capacity across multiple cancer types, including CRC. Notably, using different inhibitors to impede oxidative stress or metabolic reprogramming led to a significant reduction in the fraction of cycling persisters[66].
In CRC it has been shown that chemotherapy enriches for cells with a CSC phenotype. However, a pivotal role for a full definition of functional stem cell is concomitantly played by tumor microenvironment (TME) properties and in particular by osteopontin - a multifunctional protein that can also act as a cytokine - produced by key cancer-associated fibroblasts (CAFs)[67]. Recently, an escape mechanism leading to tumor re-growth after 5-FU treatment has been identified in a p53-mediated activation of the WNT/beta-catenin signaling, a pivotal pathway to sustain CRC CSCs. Accordingly, the addition of a WNT inhibitor to 5-FU effectively suppressed the CSCs and reduced tumor re-growth after discontinuing the treatment[68]. Also, CRC CSCs can escape immune surveillance by avoiding recognition by the innate immune system and shape the TME through the release of exosomes, cytokines, and chemokines to generate an immunosuppressive niche that facilitates cancer progression[69].
As mentioned above, TME cues from the tumoral niche can support drug resistance. Important players in this scenario are CAFs, which represent an essential component of tumoral stroma and produce several cytokines acting on tumor cells. Beyond osteopontin, another multifunctional cytokine released by CAFs is transforming growth factor beta (TGFB) that can act synergistically with hypoxia-induced tumor cell-expressed HIF1A to sustain 5-FU/oxaliplatin resistance via activation of the hedgehog pathway, as demonstrated by in vitro and in vivo experiments using patient-derived cells[70]. Interestingly, 5-FU-induced TGFB production occurs also in CRC cells as a mechanism of resistance and targeting TGFBRI restores the sensitivity of drug-resistant cells to 5-FU toxicity[71]. In addition, the 5-FU-elicited TGFB1 protective action can also be abolished by the use of BTK inhibitors[51]. Other than through cytokine release, CAFs can communicate with the cancer cell directly, by transferring exosomes. For example, it has been shown that exosomal transfer of miR-92a-3p to CRC cells activates the WNT/beta-catenin pathway and inhibits mitochondrial apoptosis, and contributes to cell stemness, epithelial-to-mesenchymal transition, metastasis, and resistance to 5-FU/oxaliplatin treatment[72]. Also, exosomal transfer of lncRNA H19 has been found to promote the stemness and chemo-resistance of CRC via activation of the WNT/beta-catenin pathway due to its action as a competing endogenous RNA sponge for miR-141[73]. Notably, these data further indicate WNT/beta-catenin pathway as a potentially actionable target to overcome chemotherapy resistance.
Exosomes can also be exchanged by cancer cells themselves either in normal conditions or upon chemotherapy. For example, it has been shown that miR-21 is significantly upregulated in exosomes purified from CRC cell lines and that adding them to the cells induces resistance against 5-FU through the downregulation of PDCD4[74]. Exosomes derived from 5-FU-resistant cells instead are enriched in growth/differentiation factor 15 (GDF15) and dipeptidyl peptidase IV (DPP4), both of which proved to be potent inducers of angiogenesis[75,76]. Accordingly, 5-FU-resistant CRC cells showed high microvascular density in vivo[75]. Taken together these data indicate that GDF15 and DPP4 may be novel targets for inhibiting angiogenesis in 5-FU-resistant colon cancers.
Finally, in the tumoral niche, different types of TIICs are present that interact with cancer cells and the other components of the niche through cytokine production, eventually altering tumor growth and its response to drug therapy[69,77]. TIICs in the TME have dual functions in cancer progression: TIIC-related inflammation facilitates tumorigenesis, but TIICs also harbor antitumor properties when appropriately activated. Cancer cell-secreted factors hijack TIIC functions to promote tumor development and metastasis and to suppress immune recognition[69]. Accordingly, one of the most important progress in cancer treatment has been the recent addition to chemotherapy of the so-called immune checkpoint (ICIs) inhibitors that act by interrupting the immunosuppressive signals within the TME and reactivating antitumor immunity[78].
The gut microbiota
Gut microbiota seems to be implicated in chemotherapy efficacy through numerous mechanisms [Table 3], including xenometabolism, immune interactions, and altered community structure. Evidence suggests a potential relationship between the presence of Fusobacterium nucleatum and resistance to 5-FU and oxaliplatin chemotherapy and no response to immunotherapy. For example, Yu et al.[79] reported that F. nucleatum was abundant in CRC tissues in patients with recurrence post-chemotherapy and associated with clinicopathological characteristics. Mechanistically, F. nucleatum targeted TLR4 and MYD88 innate immune signaling and specific microRNAs to activate the autophagy pathway and support drug resistance[79]. Other mechanisms by which F. nucleatum confers resistance to chemotherapy have been reported, such as the upregulation of BIRC3 expression (a member of the inhibitor of apoptosis family, IAPs)[80] and the activation of the WNT/beta-catenin pathway via a TLR4/P-PAK1 cascade[81]. In an animal model of CRC, the intratumor presence of bacteria belonging to the Gammaproteobacteria class and producing the long form of the bacterial enzyme cytidine deaminase, which mediates gemcitabine deamination, conferred resistance to gemcitabine; accordingly, the elimination of bacteria by ciprofloxacin treatment restored the response to chemotherapy. In addition, the presence of Mycoplasma hyorhinis determined resistance to gemcitabine[82]. At variance, responses to oxaliplatin were reduced in efficacy in tumor-bearing mice that lacked microbiota[83] indicating that the microbial population resident in the gut can affect both sensitivity and resistance to chemotherapy, being these effects modulated by different bacteria.
Table 3
The gut microbiota and the response to chemotherapy/immunotherapy
Bacterium
Correlation with drug resistance
Mechanism
Ref.
Fusobacterium nucleatum
Abundant in CRC tissues of patients with recurrence post-chemotherapy and associated with clinicopathological characteristics
Targeting of TLR4 and MYD88 innate immune signaling and targeting specific microRNAs to activate the autophagy pathway
[79]
Upregulation of BIRC3 expression
[80]
Activation of the WNT/beta-catenin pathway via a TLR4/P-PAK1 cascade
[81]
Gammaproteobacteria
Mycoplasma hyorhinis
Resistance to gemcitabine reverted by eliminating bacteria by ciprofloxacin treatment
Production of the long form of the bacterial enzyme cytidine deaminase which mediates gemcitabine deamination
[82]
Whole microbiota
Reduction of the response to oxaliplatin in mice lacking microbiota
[83]
Bacteroides thetaiotaomicron
Bacteroides fragilis
Their introduction in SPF mice models of CRC restored the response to anti-CTLA-4 treatment, absent in germ-free or antibiotic treated mice
[147]
Finally, it has been recently shown that commensal bacteria can produce extracellular vesicles (EVs) able to deliver to the human cells bacterial RNA molecules with gene expression regulatory ability, thus suggesting that they might potentially regulate the expression of genes involved in drug resistance. The communication between commensal bacteria and host cells have been shown to be bi-directional suggesting a reciprocal regulation of gene expression and accordingly, biological cell function. An example of this communication having an impact in the development of drug resistance is offered by the previously mentioned study by Yu et al.[79], where resistance to 5-FU and oxaliplatin has been shown to be mediated by F. nucleatus-induced autophagy through the TLR4/MYD88-mediated downregulation of miR-18a* and miR-4802. Conversely also intestinal epithelial cells exerted a reciprocal effect onto F. nucleatus by controlling its growth through the delivery of specific miRNAs, such as hsa-miR-515-5p. In CRC patients, altered expression of miR-515-5p might thus affect F. nucleatus proliferation and consequent response to chemotherapeutic drugs[79]. EV-mediated intercellular communication between bacteria and cancer cells seems therefore to be another potential mechanism playing a role in determining the efficacy of cancer therapy and worthy of increasing attention.
RESISTANCE TO TARGETED THERAPY
According to ASCO guidelines, chemotherapy can be possibly integrated with anti-angiogenic agents such as bevacizumab or aflibercept (first-line and second-line treatment, for advanced CRC) and regorafenib (in patients with mCRC who have already received chemotherapy and other targeted therapies). In selected cases, chemotherapy may also be integrated with the addition of targeted therapy. For example, anti-EGFR (anti-epidermal growth factor receptor) monoclonal antibodies (e.g., cetuximab and panitumumab) are indicated only for RAS- and BRAF-wild type (wt) tumors since the mutation of these two genes confer resistance to the EGFR blockade. In addition, a combination using the BRAF inhibitor encorafenib and cetuximab may be used to treat patients with BRAF-mutant (mut) mCRC who have received at least one previous treatment. In the last decade, several tumor-expressed "immune checkpoints", immunosuppressive molecules blocking antitumor immunity, have been identified and "checkpoint inhibitors" have been developed and entered the clinic. Among them are antibodies against programmed cell PD-1 or its ligand PD-L1 and cytotoxic T lymphocyte-associated protein 4 (CTLA-4). So far, immunotherapy has a limited use in CRC since PD-1 targeting monoclonal antibodies can be used only in selected cases of mCRCs bearing defects along the DNA damage response pathways. For example, pembrolizumab is used for the therapy of mCRCs that are MSI-H or dMMR. In contrast, nivolumab can be administered to patients with dMMR or MSI-H mCRC that has grown or spread after treatment with chemotherapy, either alone or in combination with ipilimumab (anti-CTLA-4 monoclonal antibody). Notably, the FDA has issued its approval for pembrolizumab as the first-line treatment of patients with dMMR/MSI-H mCRC in June 2020, even though neither the Japanese Pharmaceuticals and Medical Devices Agency nor the European Medicines Agency has yet approved pembrolizumab as the frontline regimen[84].
To expand the range of possible combinations of precision drugs to add to chemotherapy several efforts have been made to better stratify patients and to understand the basis of resistance/insensitivity to targeted therapy.
CONCLUSION
Intrinsic and acquired resistance to chemo-, targeted, and immune-therapy remain the core problem(s) to tackle for ameliorating the outcome of CRC patients, especially in the metastatic setting. Significant improvements and longer expectancy of life have been reached using a combination/integration of the different types of therapy, but only the identification of additional targetable liabilities to be exploited in specific settings will allow to concomitantly attack the tumor from different angles, hopefully leading to its eradication. In this sense, promising approaches are: the development of novel nanoparticles able to vehicle chemotherapy directly inside the cells avoiding the intake/efflux systems, often deregulated in resistant cells; the induction of synthetic lethality via the use of inhibitors of specific DNA damage checkpoints or DNA repair enzymes in tumors presenting defects in the DNA repair mechanisms; the use of BH-3 mimetics in tumors highly expressing anti-apoptotic members of the BCL2 family; the targeting of several kinases shown to sustain resistance to classic chemotherapy and also resistance to target therapy via activation of feed-back loops; the targeting of pathways crucial for cancer stem cells maintenance and viability; the targeting of several components of the TME, recognized to be responsible for an immune-privileged environment, among which the so-called immune checkpoints; and the modulation of the microbiota. For the most of these approaches an unavoidable task will be patient stratification according to specific biomarkers and/or genetic defects, indicating that precision medicine is the ultimate path to cover in order to identify effective therapies for each patient. In addition, given the high tumoral heterogenicity and the Darwinian pressure exerted by anti-cancer treatments, to prevent and/or overcome resistance it will be also essential to combine different types of therapies and using vertical approaches to target multiple nodes along the same pathway.
DECLARATIONS
Authors' contributions
Drafting the article, revising it, and giving final approval prior to submission: Grassilli E, Cerrito MG
Availability of data and material
Not applicable.
Financial support and sponsorship
None.
Conflicts of interest
Both authors declared that there are no conflicts of interest.
Ethical approval and consent to participate
Not applicable.
Consent for publication
Not applicable.
Copyright
© The Author(s) 2022.