Abstract
Resistance to targeted anti-cancer drugs is a complex phenomenon and a major challenge in cancer treatment. It is becoming increasingly evident that a form of acquired drug resistance known as "adaptive resistance" is a common cause of treatment failure and patient relapse in many cancers. Unlike classical resistance mechanisms that are acquired via genomic alterations, adaptive resistance is instead driven by non-genomic changes involving rapid and dynamic rewiring of signalling and/or transcriptional networks following therapy, enabled by complex pathway crosstalk and feedback regulation. Such network rewiring allows tumour cells to adapt to the drug treatment, circumvent the initial drug challenge and continue to survive in the presence of the drug. Despite its great clinical importance, adaptive resistance remains largely under-studied and poorly defined. This review is focused on recent findings which provide new insights into the mechanisms underlying adaptive resistance in breast cancer, highlighting how breast tumour cells rewire intracellular signalling pathways to overcome the stress of initial targeted therapy. In particular, we investigate adaptive resistance to targeted inhibition of two major oncogenic signalling axes frequently dysregulated in breast cancer, the PI3K-AKT-mTOR and RAS-MAPK signalling pathways; and discuss potential combination treatment strategies that overcome such resistance. In addition, we highlight application of quantitative and computational modelling as a novel integrative and powerful approach to gain network-level understanding of network rewiring, and rationally identify and prioritise effective drug combinations.
Keywords
Network rewiring, adaptive resistance, PI3K signalling, MAPK signalling, breast cancer, mathematical modelling, systems analysis
Adaptive resistance to anti-cancer monotherapy
Cancer is a complex network disease in which cells have acquired the ability to divide and grow uncontrollably, usually through genetic alterations in specific genes[1]. The discovery of molecular drivers of cancer and development of targeted drugs against these molecules have truly transformed the treatment of cancer. Imatinib (Gleevec), an inhibitor that blocks the BCR-Abelson murine leukemia viral oncogene homolog 1 (ABL1) tyrosine kinase activated in chronic myeloid leukemia (CML), is an outstanding example of an effective targeted therapy. Despite initial successes however, the overall progress of targeted therapy in the clinic has been hampered by the emergence of drug resistance, especially to those administered as single-agents, often referred to as monotherapy.
Drug resistance is a complex phenomenon and a major cause of cancer treatment failure, leading to patient relapse, disease progression and death[2]. Broadly, resistance to anti-cancer therapies can be divided into 2 categories: intrinsic or acquired. The former indicates the pre-existence of resistance-inducing factors in the tumour even before drug administration, and thus the treatment is ineffective from the start. In contrast, acquired resistance develops during the course of treatment, typically following an initial period when the treatment is effective. To date, multiple direct and indirect mechanisms underlying drug resistance have been identified, including - poor drug influx or excessive efflux, inherent cellular heterogeneity within the tumour, drug inactivation and alterations of the drug targets, which can act independently or in combination to limit drug efficacy[3].
Among the mechanisms of acquired resistance, development of secondary mutations of the drug targets that compromise binding or inhibition of the drug to the target has been probably the most well studied. Notable examples include the emergence of T790M mutation in epidermal growth factor receptor (EGFR) leading to resistance to gefitinib in EGFR-mutant lung cancer[4], T315 in ABL1 causing imatinib/dasatinib resistance in acute lymphocytic leukemia and CML[5,6]; and ERBB2/HER2 truncation leading to trastuzumab resistance in ERBB2-positive breast cancer[7]. In addition to these genetic mechanisms, it has become increasingly clear that tumour cells also rely on a non-genetic and highly adaptive mechanism involving dynamic rewiring of cell signalling networks to circumvent the initial drug blockade. A distinguishing and remarkable feature of drug-induced "network rewiring" and ensuing "adaptive resistance", compared to classical resistance mechanisms, is that they can occur extremely quickly and have been commonly observed within hours or days following drug treatment in cell and animal tumour models[8] as well as in cancer patients[9].
Given the great relevance of network-mediated adaptive resistance, an increasing number of studies have been undertaken that have shed new light on the underlying mechanisms of drug-induced network rewiring and illuminated common themes behind the cause of adaptive resistance. Here, we review recent and notable experimental studies in this area with a special focus on this adaptive resistance phenomenon to kinase inhibitors targeting the phosphoinositide 3-kinases (PI3Ks)/AKT/mTOR and receptor tyrosine kinase (RTK)/rapidly accelerated fibrosarcoma (RAS)-MAPK signalling pathways in breast cancer (BC). We discuss potential combination treatment strategies where additional targeted drugs are combined with the initial agent to overcome adaptive resistance caused by treatment of the latter alone. Furthermore, as signalling networks are highly complex systems due to an abundance of feedback regulation, pathway crosstalk and intricate post-translational modifications, in-depth understanding of signalling network rewiring requires new integrative and quantitative approaches that extend beyond experimental work alone. The rapid development of adaptive resistance under typically short-time scales also begs for a new perspective to interrogate drug response dynamically rather than just obtaining a static snapshot. To this end, we will highlight the application of systems-based approaches combining computational modelling with lab based experiment to cope with these challenges and advance the discovery of effective combination therapies.
PI3K-AKT-mTOR and RAS-MAPK signalling pathways in BC: key drivers of oncogenesis
BC is the most common cancer among women, which accounts for about a quarter of all diagnosed human tumours[10]. Although early diagnosis and enhanced therapies have greatly improved the overall survival time, BC is still a leading cause of cancer-related death worldwide[10]. While BC is a common term referring to tumours originating from the breast, it is an extremely heterogeneous disease with multiple subtypes that are distinct in molecular characteristics, level of aggressiveness and association with patient outcome[11]. Depending on the molecular data and measuring techniques used, the subtyping of BC may differ slightly, but it is usually classified into several major subtypes based primarily on the status of 3 major cell-surface receptors: luminal A [estrogen receptor (ER) and/or progestogen receptor (PR) positive, HER2 negative]; luminal B (ER+ and/or PR+, HER2+); HER2-amplified (ER-, PR-, HER2+), and triple-negative BC (Basal-like or TNBC, ER-, PR-, HER2-)[12]. Targeted therapies are available for luminal A/B and HER2+ BC, however due to the lack of all three receptors TNBC currently has no targeted treatment options.
Advances in DNA sequencing over the past decade has enabled us to systematically study genetic alterations and their frequencies in cancer patients, leading to a better understanding of key cancer-driving signalling pathways. The PI3K-AKT-mTOR and RAS-MAPK signalling pathways are among the most frequently altered pathways across different cancer types including BC[13]. Located downstream of various RTKs, these are 2 major independent, yet highly interconnected, signalling cascades that critically regulate oncogenesis, reflected by their central roles in normal cell physiology[14]. The PI3K pathway is a prototypic survival pathway and is the most frequently dysregulated pathway in BC[15], through a variety of genetic disruptions such as deletion of the tumour suppressor PTEN, oncogenic mutations in phosphatidylinositol-4,5-bisphosphate 3-kinase catalytic subunit alpha mutation (PIK3CA), and/or HER2 amplification[16]. Altered PI3K signalling, defined by alternation of one or more genes within the pathway, occurs across different BC subtypes, but most frequently in Luminal A, HER2+ and Basal-like BC (62%, 60% and 53%, respectively)[13]. The most common genetic alteration of this pathway are activating mutations in PIK3CA gene which encodes the p110α catalytic subunit of PI3K. Data compiled on the alteration frequencies using the CBioPortal Cancer Genomics shows that ~40% of BC patients had PIK3CA alterations, followed by 11% having PTEN deletion [Figure 1A]. Interestingly, while alterations in PIK3CA are primarily missense mutations and occur mostly in luminal A/B or HER2+ patients, loss of PTEN prominently happens in Basal-like/TNBC patients[17].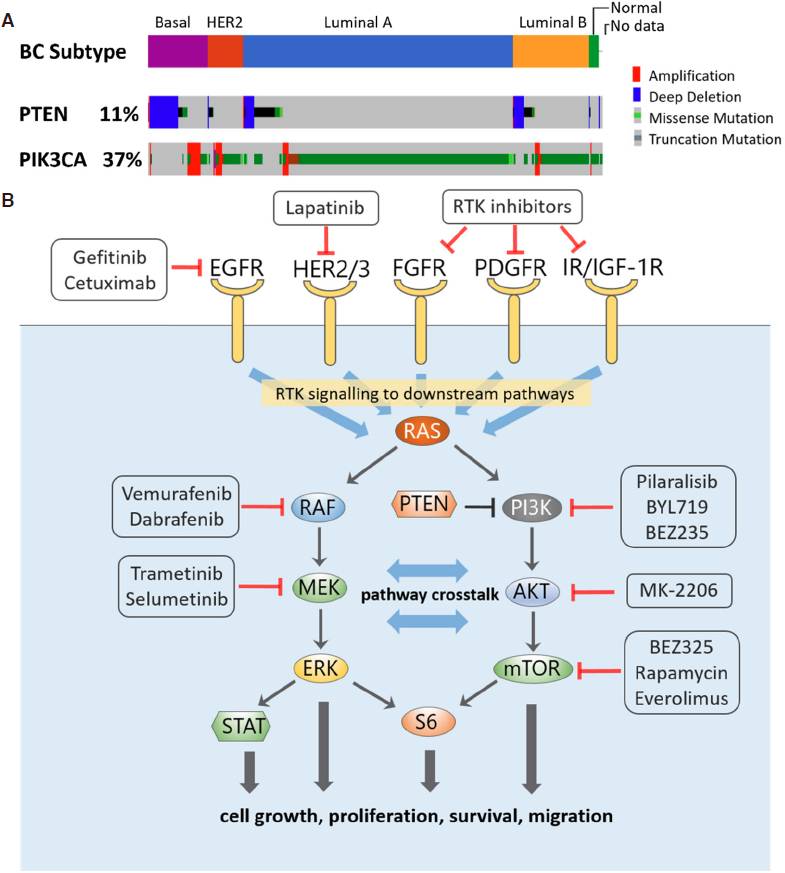 Figure 1. A: Frequency of alterations of PTEN and PIK3CA in breast cancer patients by subtype, analysed using the Pan-cancer Atlas dataset (n = 994) from The Cancer Genome Atlas Program (www.cbioportal.org); B: Signalling crosstalk between the PI3K and MAPK signalling pathways, with examples of targeted inhibitors directed at the network nodes
Disruptive activation of the RAS-MAPK pathway, on the other hand, occurs in more than 30% of human cancers and is associated with increased risk of metastasis[18]. Activation of the pathway can be brought about by mutations in the core members RAS and RAF, but more often is due to alterations of upstream RTKs such as the ERBB family receptors, fibroblast growth factor receptor (FGFR) or MET. When this was taken into account, among the 10 most common oncogenic signalling pathways the RTK-RAS-MAPK pathway had the highest median frequency of alterations (46%) across all cancer types[13]. Of these, HER2+ BC has the third highest alteration rate in this pathway (82%), after only melanoma (94% altered) and the genomically-stable subtype of colorectal cancer (88%)[13]. EGFR, the most well-known upstream RTK of RAS-MAPK signalling, is frequently amplified in TNBC/basal-like subtype[19,20], leading to pathway activation in ~50% of these patient groups[21].
Due to their frequent alterations, targeting the receptor and protein kinase components of the PI3K and RAS-MAPK signalling pathways have been attractive therapeutic approaches for BC, reflected by an increasing array of targeted agents under active development and clinical testing[22,23][Figure 1B]. Yet, network rewiring and adaptive resistance represent major obstacles that limit the full clinical potential of these inhibitors. Below, we will first discuss these phenomenon observed for inhibitors targeting the RAS-MAPK pathway, followed by those targeting the PI3K pathway.
Network rewiring in response to RAS-MAPK pathway inhibition: adaptive resistance mechanisms and proposed combination therapies
Network rewiring in response to PI3K pathway inhibition: adaptive resistance mechanisms and proposed combination therapies
Application of computational systems modelling to decipher drug-induced network rewiring and identify effective drug combinations
The experimental studies above (and others not discussed here due to space limitation), have revealed remarkable complexity into the mechanisms of targeted drug-induced network rewiring, which are highly diverse, dynamic and context-specific. This phenomenon reflects, in part, the presence of complex pathway crosstalk, intertwined positive and negative feedback loops, and post-translational modifications that together make signalling networks incredibly plastic and highly nonlinear. In-depth understanding of network remodelling therefore requires an ability to quantitatively describe drug-affected signalling-transcriptional networks and their dynamic behaviours overtime, which extends beyond experimental approaches alone. To this end, we believe systems-based approaches that integrate mathematical network modelling with experimental work will be essential for systematic interrogation of feedback and crosstalk disruption, dynamic drug response and ultimately drug-mediated network rewiring[78-83]. Mathematical models offer useful abstractions and powerful quantitative frameworks that enable us to validate our intuitive understanding, and gain new insights into these complex processes through formal analysis and predictive simulations[84-87].
Moreover, mathematical modelling and model-based analysis can rationally inform suitable therapeutic targets and new drug combinations. While it is much more costly and practically challenging to screen vast number of possible target/drug combinations experimentally, predictive modelling, in principle, can be exploited to narrow down myriad possibilities and prioritise optimal combinations, thereby focusing experimental efforts only on these lead candidates[88]. We have recently demonstrated the validity of these concepts through model-based analysis of drug-induced signalling rebound in TNBC cells, and development of a computational drug combinations identication pipeline that enables in silico screening of numerous pair-wise drug combinations directed at signalling nodes and the ability to rank them by synergistic potential[89]. Applying this pipeline to a new mathematical model of EGFR signalling in TNBC led to predictions that combined inhibition of EGFR with PYK2, and to a lesser extent MET, displayed potent synergistic effects in suppressing oncogenic signalling. Experimental validation in TNBC cell lines and tumour xenograft confirmed these model predictions[41,89]. Further, unlike machine learning based approaches to drug combination discovery which often treat the target system as black-boxes[90], dynamic modelling has the ability to offer mechanistic reasoning behind the synergistic effect of effective drug combinations, which are critical for assessing their application under different cellular contexts. Indeed, time-course simulations showed that EGFR-PYK2 co-inhibition was synergistic because it eliminated the adverse network rewiring and reactivation of STAT3 and ERK caused by either EGFR or PYK2 inhibition alone[89].
The heterogeneity between cancer patients and their tumours leading to heterogeneous drug-induced network response poses a significant challenge for personalised cancer treatment. Here, mathematical modelling of biochemical networks further provides an effective approach to capture the patient-to-patient heterogeneity through incorporation of patient-specific - omics data and generation of patient-specific models[91,92]. These models can then be used to predict drug response[91,93,94], design rational drug combinations[92,95] and identify potential predictive biomarkers[91,92] in a personalised manner. More interestingly, dynamic outputs from these computational network models can themselves serve as biomarkers[96] that may be integrated with classical genes or protein-centric biomarkers for better personalisation of the treatment options. While mathematical modelling has been a highly useful tool for gaining systems-level understanding of signalling networks over the past decade, we believe future research priority should be placed on harnessing the translational capability of these models.
Concluding remarks
This review has provided an integrative summary on the known mechanisms of adaptive resistance to inhibitors targeting the PI3K and RAS-MAPK pathways in BC (see Table 1 for a list of the major studies discussed). While these mechanisms appeared diverse in nature, several key themes have emerged. First, adaptive resistance occurs extremely quickly. Network-mediated activation of compensatory oncogenic signalling typically happens within hours of drug treatment in cancer cell lines. Although more work is required to monitor drug response in vivo, drug-induced network rewiring likely occurs in hours to days in animal models or patients, which is still much more rapid relative to the time typically needed for development of resistance due to genetic changes. This highlights the importance of the timing of drug combinations, which have been under-appreciated and under-studied so far. The fast timescale associated with adaptive resistance also implies the "wait-and-see" treatment strategies are not appropriate, and instead new treatments, such as combinatorial therapy, should predictively and pre-emptively prevent network adaptation before it takes place. Second, upregulation of RTKs is a recurring theme that applies to inhibitors targeting both pathways. Remarkably, common sets of RTKs tend to be induced by distinct inhibitors, indicating different inhibitors may utilise similar transcriptional machinery for RTK induction. Supporting this notion, combination of kinase inhibitors with epigenetic inhibitors such as those targeting BET have been shown to yield broad efficacy. It is likely that BET inhibitors may also be useful as part of combination treatments along with inhibitors for kinases other than those in the PI3K or ERK pathways. Third, adaptive resistance is primarily mediated by disruption of negative feedback loops. These feedbacks may have evolved to control important aspects of cell biology in non-transformed contexts[97], but are hijacked by cancer cells to evade the drug effect. Moreover, although the studies reviewed here tend to focus on isolated feedback mechanisms, it is almost certain that they work together in any specific tumour setting, likely at differing intensities. Understanding which feedback (or combination of feedbacks) is dominant under which context(s) in mediating resistance will be critical in designing effective combination therapy to overcome it.
Table 1
Summary of selected network rewiring mechanisms in response to targeted inhibition discussed in this review
| Targets | Drug agents | Rewiring mechanisms | Resistance-overcoming strategies | Ref. |
| --- | --- | --- | --- | --- |
| MEK | U0126 | Activated PI3K/AKT signalling, via MEK-EGFR-PI3K negative feedback | Combined MEK + PI3K inhibition | [26,27] |
| MEK | Selumetinib | Activated AKT signalling, via MEK/ERK-ERBB3-PI3K negative feedback | Combined MEK + ERBB3 inhibition | [30] |
| MEK | Trametinib | Upregulation/activation of multiple RTKs, via c-Myc degradation | Combined MEK + RTKs inhibition | [8] |
| MEK | Trametinib | Increased genome-wide BRD4-density enhancers leading to upregulation of multiple RTKs | Combined MEK + BET inhibition | [9] |
| MEK | MEK inhibitors | Activation of SHP2 signalling | Combined MEK + SHP2 inhibition | [33-37] |
| MEK | Trametinib | Reduced proteolytic shedding of multiple RTKs (AXL, HER4, MET), leading to incresed mitogenic signaling | Combined MEK + AXL inhibition | [39] |
| EGFR | Gefitinib | Enhanced HER3 signalling via PYK2 | Combined EGFR + PYK2 inhibition | [41] |
| mTOR | Rapamycin | Activated IGF1R/IR via mTORC1-IRS1 negative feedback | Combined mTORC1 + IGF1R inhibition | [49] |
| PI3K/AKT | XL147 (Pilaralisib), BKM120 or AKT inhibitors | Upregulation and activation of RTKs (HER3, IR, IGF1R and FGFRs), partly via AKT-FOXO-RTKs negative feedback | Combined PI3K + specific RTK (e.g., HER3) inhibition | [50,52] |
| mTOR | Rapamycin | ERK activation via mTORC1-PI3K-Ras feedback | Combined mTORC1 and MAPK inhibition | [60] |
| PI3K/mTOR | BEZ235 | ERK activation via ERBBs | Combined PI3K/mTOR and HER2/3 antagonists | [61] |
| PI3Kβ | AZD8186 | IGF1R | Combined PI3Kβ + PI3Kα or PI3Kβ + IGF1R/IR inhibition | [66] |
| PI3K | PI3K inhibitors | Increased BRD4 occupancy at conserved regions upstream from the transcriptional start site of multiple RTKs and MYC | Combined PI3K + BET inhibition | [71] |
| PI3K/mTOR | BEZ235 | IRS1-dependent activation of JAK2/STAT5 signalling | Combined PI3K/mTOR and JAK2 | [73] |
| PI3K | BKM120 | AKT reactivation via Skp2 | Combined PI3K + Skp2 inhibition | [77] |
In addition to sharing common features, specific mechanisms of adaptive resistance also display distinct properties depending on the targets and/or specific inhibitors used. For example, PI3K and AKT inhibition may trigger very different rewiring mechanisms by invoking different feedback loops. Importantly, many of the issues raised here can only be understood at the network level aided by mathematical and computational models of these networks. Thus, systems approaches that embrace predictive and quantitative modelling will be essential for future research into understanding network-mediated adaptive resistance and developing therapeutic strategies to combat adaptive resistance.
Declarations
Authors' contributions
Conceived the review: Cremers CG, Nguyen LK
Wrote the manuscript: Cremers CG, Nguyen LK
Supervised the study: Nguyen LK
Availability of data and materials
Not applicable.
Financial support and sponsorship
This work was supported by the Victorian Cancer Agency Mid-Career Research Fellowship (MCRF18026) and the Cancer Council Victoria Grant in Aid, Ref. No. 1123892CC awarded to Lan K Nguyen (Nguyen LK).
Conflicts of interest
Both authors declared that there are no conflicts of interest.
Ethical approval and consent to participate
Not applicable.
Consent for publication
Not applicable.
Copyright
© The Author(s) 2019.
Cite This Article
Cremers CG, Nguyen LK. Network rewiring, adaptive resistance and combating strategies in breast cancer. Cancer Drug Resist 2019;2:1106-26. http://dx.doi.org/10.20517/cdr.2019.60